In The News
6/29/2010, 10:53 a.m.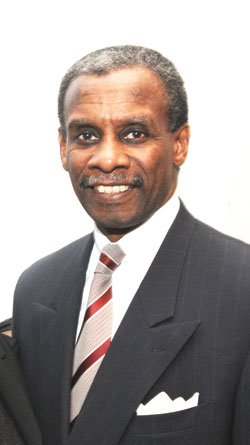 George A. Russell Jr., executive vice president and director of corporate citizenship for State Street Corporation, recently received an honorary degree at the University of Massachusetts Boston's 42nd commencement ceremonies.
Mr. Russell, a Westwood resident, was presented with a doctor of law degree, honoris causa, for his philanthropic work over the past 30 years in the banking and finance field.
"The university is pleased to honor George A. Russell Jr. with an honorary degree for his many positive contributions to the community and his years of leadership in his field," UMass-Boston Chancellor Keith Motley said.
Russell is chairman of the board and president of the State Street Foundation, and is responsible for the corporation's philanthropic and community support programs globally. He now serves on the board of directors of Tufts Health Plan Foundation, the African Presidential Archives and Research Center at Boston University and is a trustee of the Massachusetts Math and Science Initiative. He is also a member of the New York Conference Board Center for Citizenship and Sustainability.
He also received the Chancellor's Award for Longstanding Community Commitment and Service at the annual UMass Boston Community Breakfast in 2009.