Groundbreaking project saved affordable housing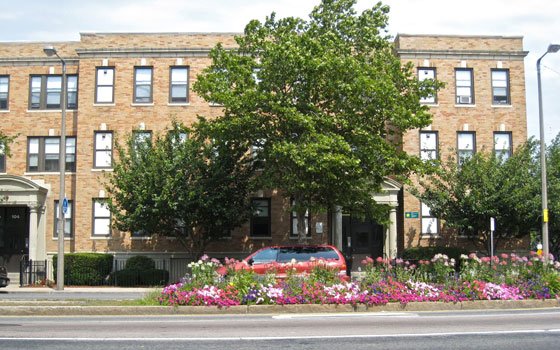 The Metropolitan Boston Housing Partnership (MBHP) recently celebrated the successful conclusion of a 21-year project that preserved 925 affordable rental housing units in Dorchester, Roxbury and Jamaica Plain.
The project, launched in the late 1980s and known as BHP II, linked private corporations with local nonprofit community development corporations (CDCs) in a partnership to rehabilitate foreclosed and distressed apartment buildings with a plan to eventually transfer full ownership to the CDCs.
The corporations — most of them local financial institutions — functioned as investors, providing much-needed funds while benefiting from a low-income housing tax credit.
"These properties were in serious jeopardy of being lost," said Christopher Norris, executive director of MBHP. "The money from the investors saved the properties. It was more than any of the CDCs could have done on their own."
The agency that facilitated the collective investment and made sure the money flowed to the CDCs was the Boston Housing Partnership, which later merged with Metropolitan Housing Incorporated to form MBHP, the project overseer since then. MBHP now offers voucher assistance and other housing services to 30 Boston-area communities.
Gail Latimore, executive director of Codman Square Neighborhood Development Corporation (CSNDC), said BHP II had a "tremendous impact" in her organization's neighborhoods.
Blocks of apartments near the intersections of Washington Street with Columbia Road and Blue Hill Avenue were being ravaged by crime, she said. Many had fallen into disrepair. In some of the properties, drug dealers had torn down walls between units.
"I remember, back in the mid-1980s, driving through [that area] in my car and feeling unsafe because there were people spaced out on every corner, on drugs," she recalls.
Latimore, who joined CSNDC in 1994, said her organization owns 326 units that benefited from BHP II and an earlier BHP project.
"In our properties on Columbia Road and Blue Hill Avenue, [the BHP partnerships] brought a sense of stability, and a sense of beauty," she said. The units are now well-maintained, the residents active and engaged, she added, some having successfully advocated to have the city put attractive plantings in the middle of the boulevards.
"Are things perfect? No. But it is dramatically different," she said. "It literally revitalized the major boulevards in inner city Boston."
Recently, two major milestones marked the last days of BHP II.
With the affordable housing tax credit's 15-year compliance period over, the private investors began over the past few years to transfer ownership of the apartments to the CDCs. By late 2009, all 925 BHP II units were fully CDC-owned.
Last November, MBHP held an event to honor the investors — Bank of America, BNY Mellon, Citizens Bank, John Hancock Life Insurance Company, MetLife Insurance Company, Novogradac Housing Partners, Prudential Insurance Company of America, State Street Bank and Trust Company, and The TJX Companies — for their role in preserving affordable housing.
And on May 5 of this year, the partnership reached its final goal as MBHP presented Latimore and the directors of the six other nonprofit agencies with checks totaling $680,000. The payments represent a refund of money the CDCs were required to put in as a sort of collective insurance at the start.