Jada Pinkett Smith reflects on the challenge of balancing a show biz career and family when each member is a star in his or her own right.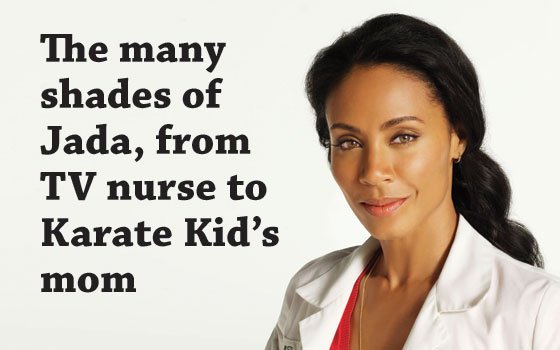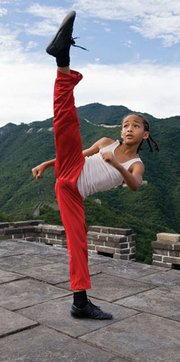 Besides playing the title character on the TNT series HawthoRNe, which is starting its second season, Jada Pinkett Smith executive-produces the show through her production company, 100% Womon. With her husband, Will Smith, she is serving as producer of "The Karate Kid," starring their son, Jaden, and also of Fela!, the Broadway musical nominated for 11 Tony Awards. Pinkett Smith's recent film credits include "Madagascar: Escape 2 Africa," as the voice of Gloria, and director Diane English's remake of "The Women."
In the past, she's teamed up with Adam Sandler and Don Cheadle in "Reign Over Me," and enjoyed a pivotal role opposite Tom Cruise and Jamie Foxx in Michael Mann's "Collateral." However, she perhaps remains best known as the take-charge Niobe of "Matrix Reloaded" and "Matrix Revolutions" fame.
Here, Pinkett Smith reflects on the challenge of balancing career and family when each member is a showbiz celebrity in his or her own right.
Well, first of all, let me say congratulations! You're blossoming on every front. Let's see, HawthoRNe's starting its second season, you're going to be on the cover of the July issue of Essence magazine, your Broadway musical has been nominated for 11 Tonys and Jaden is starring in "The Karate Kid," a picture you and Will produced. How does it feel?
It feels good. These are the moments that you keep in your back pocket to remember. All of those were good times! [Laughs]
I told my readers I'd be interviewing you, and I think they often come up with better questions than I do. So why don't I start right off with some of them. Lester Chisholm says, "Thank you for the production of Fela," and asks, "What would suggest as a lifestyle to keep young entertainers focused?"
Wow … whew! Man, that's a hard one, because part of the challenge of being young is finding what to be focused on. It's a time of exploration when you have to discover who you're not, in order to know who you are. I would say being deeply involved in the art world would help keep a young artist on track. Doing what you love, so that your focus is your artistry.
Reverend Florine Thompson and filmmaker Hisani Dubose had the same question: What is the key to balancing motherhood, marriage and such a successful career?
Staying true to yourself and being able to prioritize. It's very important to prioritize. I know, for me, my family comes first. That makes every decision very easy.   
Children's book author Irene Smalls asks: Are there any arenas left for you to conquer?
[Laughs] Definitely! And I'm always looking for them. But as I've gotten older, and now that my kids are starting to do what they do, I am now really focusing on sharing my knowledge and insights with them to help guide them on their journeys.
Attorney Bernadette Beekman observes that you and Will come across as down-to-earth and very family-centric. She wants to know how you keep your family values intact with the children becoming stars themselves? Do they have chores and an allowance?