Locally grown, fresh foods - at a low price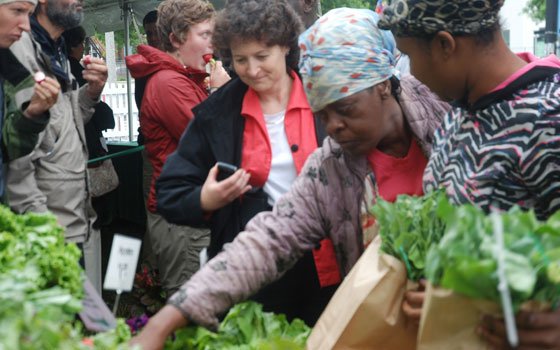 As the muggy heat of summer descends upon Boston, fruits and vegetables are sprouting up in Dorchester.
Last Thursday, ReVision Urban Farm inaugurated a new farm stand at 1062 Blue Hill Ave. in Dorchester. The farm stand will sell fresh and locally grown fruit, vegetables and herbs grown at ReVision Urban Farm and other community farms in the Boston area.
"By offering fresh produce grown right in the neighborhood, this new farm stand will make healthy food options available to everyone in the community," said Mayor Thomas Menino, who attended the ribbon-cutting ceremony.
"Now," Menino continued, "this organization is helping to close the gap on health disparities while increasing access to affordable, nutritious, locally grown produce for families living in our neighborhoods."
For SNAP participants, produce will be offered at a discounted rate. Boston Bounty Bucks will match, dollar-for-dollar, food stamp spending at farmer's markets in the Boston area —  $10 of food stamps will buy $20 of produce.
Lucy Warsh from the Department of Neighborhood Development, which licensed the land for the new farm stand, lauded the project as a "great use for this long-time vacant lot."
The farm stand is run and owned by Victory Programs' ReVision House, a Dorchester shelter that provides housing for 22 homeless mothers and pregnant women. ReVision House works to transition these families to permanent housing through job training and education assistance, and to develop other skills like parenting and nutrition.
Twenty years ago, ReVision House began a small vegetable and herb garden to provide fresh produce for the women living in the shelter. As interest in the garden grew — not just from ReVision House, but from the entire neighborhood — it expanded.
With the help of the City of Boston, ReVision House tore down abandoned and misused buildings across the street, and cleared space for a bigger farm — ReVision Urban Farm. It now spans four lots, totaling one acre of land.
The Urban Farm represents a transformation of space. As President and CEO of Victory Programs Jonathan Scott explained, people have "taken back their own neighborhood" by converting dead space into something productive.
Not only does the Urban Farm provide fresh produce for families in the shelter and the surrounding neighborhood, but it also became an opportunity for job training, employment and education.
"The farm was built around the needs of the families," Scott said.
For many mothers at ReVision House, the Urban Farm became their first source of employment, and taught important job skills like communication, marketing and teamwork.
The Urban Farm also became an educational tool. Tammy Simmons-Dixon, deputy director of Victory Housing, explained that it is the entry point for teaching the mothers about nutrition — the importance of eating fresh fruits and vegetables, budgeting — comparing the costs of fast food to farm produce, and parenting — enjoying a sit-down family dinner instead of eating quickly on the go.
Teaching these lessons to young families Simmons-Dixon hopes will "change the thinking of generations to come."