Emerson's new arts complex promises the world on stage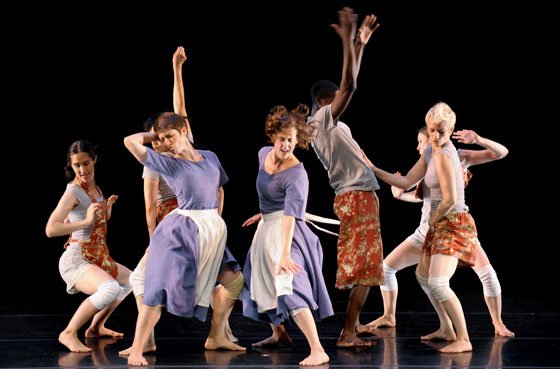 From a hip-hop reinvention of "The Sound of Music" to the existential comedy of Samuel Beckett staged by iconic director Peter Brook, the lights in Boston's theater district will shine brighter this fall.
Emerson College's dazzling new performing arts complex, the Paramount Center, and its new programming venture, ArtsEmerson: The World on Stage, will bring adventurous contemporary theater productions to a zone more known for Broadway reruns.
A few doors down from the Opera House on Washington Street, the college's $92 million Paramount Center creates three state-of-the-art performance venues: the 590-seat Paramount Theatre, which restores the Art Deco glory of this 1930s era movie palace; a 150-seat black box theater and a 170-seat screening room. Nearby on Tremont Street is the 1,186-seat Cutler Majestic Theatre, restored by Emerson in 2003.  
Combining world-class facilities with theatrical productions more familiar to Off Broadway, London and Paris than Boston, Emerson will use all four theaters as the venues for ArtsEmerson: The World on Stage, its imaginative September-through-May series of emerging and renowned theater companies.  
"We're bringing the world here," says Robert Orchard, executive director of ArtsEmerson, speaking by phone. From 1970 to 2009, Orchard was executive director of American Repertory Theater in Cambridge. Before co-founding the ART, he was managing director of the Yale Repertory Theatre and School of Drama.  
The bookings of ArtsEmerson: The World on Stage weave together two streams of programming. Its "Legends" stream features some of the world's most renowned companies, directors and performers. Its "Pioneers" showcase experimental and developing works as well as emerging artists who are shaping the future of theater.
The programming takes full advantage of the versatility of the facilities, which incorporate the latest production technologies in venues large and small in scale.
The Paramount's intimate black box theatre will host the January 2011 world premier of "The Color of Rose," in which an aged Rose Kennedy reflects on her long life as Kennedy family matriarch. In May, the small theatre will showcase "Farfalle" by Compagnia TPO of Italy. Co-presented with the Celebrity Series, the fantasia of light, sound, images and movement evokes the life cycle of a butterfly.
Ideal for larger and more complex productions, the Paramount Center's largest venue, the Paramount Theatre, has an orchestra pit for 41 musicians, a full scene shop, nine rehearsal studios and a Hollywood sound stage.
In February, the Paramount Theatre will present productions by two renowned companies from Ireland, the Druid Theatre and the Abbey Theatre. And in March, a Theatre for a New Audience production of "The Merchant of Venice" will take over Emerson's other main stage, the Cutler Majestic Theatre, a magnificently restored 1903 Beaux-Arts showcase, with Academy Award recipient F. Murray Abraham as Shylock.
"We're filling a void in the city for space suited to long-term residencies and sophisticated, large-scale works," says Orchard, 63. "We're bringing in productions that might not otherwise see the light of day in Boston."
Along with stellar programming and top-notch venues, ArtsEmerson is also creating a community of patrons who engage with the artists and each other over time. Instead of subscriptions, ArtsEmerson offers $60 annual memberships that include a free ticket, priority seating, discount packages, seat upgrades, ticket exchange and access to members-only workshops and performances.