A calling to teach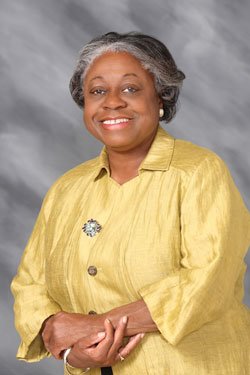 Following her mother's footsteps, Mary L. Reed is working for the children – and their teachers
Like mother like daughter.
A high value was placed on children and education in Bessie Tartt Wilson's home. She opened her first childcare center in 1946 to help serve working families in Roxbury.
After growing up in a family that's been involved in childcare since the 1940s, it comes as little surprise that Mary L. Reed, Wilson's daughter, has a deep-seated belief that every child deserves quality early childhood education and care.
Reed is using what she knows best to fight for children and equal access to education, especially for those living in low-income, inner-city communities.   
The family business — Tartt's Day Care Centers — has survived the test of time and remains Boston's oldest, minority-owned childcare business. Reed was involved at Tartt's Day Care Centers from a young age and led them for nine years, before deciding to take a more active role in education policy and reform.
As a result, she founded the Bessie Tartt Wilson Initiative for Children (BTWIC) in 2002 after her mother's death as a way to honor her mother's lifelong work that began more than 60 years ago of providing quality education and care for low-income children and families.
The mission of BTWIC is: "To strengthen early education and care for children with the greatest need through research, policy development, communication and advocacy."
Since its founding, the Initiative has studied the quality of education and care in many of the poorest communities across the state. The Initiative has also raised awareness among legislators on Beacon Hill regarding the issues these children and families face in securing and maintaining quality education.
One of the many questions BTWIC works to answer is: How can we change the dynamic for families so they can have continuity of care?
Back in 2005, BTWIC and a team of researchers conducted the study, "Keeping the Promise: A Study of the Massachusetts Child Care Voucher System," which examined the effectiveness of the voucher system and the challenges faced in implementing it. The study produced a number of recommendations for the Massachusetts Department of Early Education and Care, some of which included:
• Lengthening the certification period of child care vouchers from six months to one year.
• Supporting families and easing the administrative burdens they face.
• Increasing reimbursement rates as a means to enhance quality and reducing administrative burden for providers.
These efforts were not in vain as the first recommendation was successfully implemented in October of 2006 and has made a difference for more than 64,000 children and working families in the Bay State who are served by childcare centers, as well as those who are now on waiting lists.
The report also ensured that families with limited English proficiency had translated materials and live translation services available to them. Administrative burdens for families and agencies were reduced with the elimination of the requirement to provide the same documents to multiple agencies.