12th annual Roxbury Film Festival is 'Off and Running'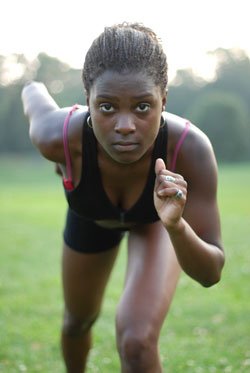 This year's Roxbury International Film Festival begins July 29 with the very popular opening reception at the Roxbury Center for Arts at Hibernian Hall.
The varied mix of films will be screened at the Museum of Science, Coolidge Corner Theater, MassArt, Wentworth Institute of Technology, Northeastern University and the Haley House through August 1.
While the opening night film, "Speed Dating," follows the festival's format of starting out light-heartedly, the other selections — like "The Cycle," a short film about a search to find a missing bicycle that might unite a Bedford-Stuyvesant community or "Abidjan," a film about a young soccer player's visit back to his home country of Cote d'Ivoire to reunite his parents — captures the festival's vision to honor and celebrate films that are by, for, and about people of color.
One filmmaker whose film made it into the Roxbury International Film Festival this year is Nicole Opper.
 "Off and Running" is a documentary that she produced about a teenage girl named Avery who starts out on an identity search that turns her life upside down and back up again for her to realize that she is who she is: an aspiring African American track star.
Opper, a graduate of New York University's Tisch School of the Arts, said she started filming "Off and Running" three years ago and worked with Avery on the film despite some of the obvious challenges of filmmaking.
How did you and Avery meet?
Avery and I actually met at her school. I was teaching a film class, part-time, to middle school kids, and she was in my very first class. I was a total wreck, a terrible teacher, and I had to learn everything on the job. I loved kids and I loved filmmaking, and I wanted to learn the two passions, but that was kind of a trial run, so in a way it's really incredible to me that we've kept in touch. We just really grew to like each other as people … I took an interest in her family and in her story early on when she was probably 12 but waited until she was 16 to pose the idea of a film.
Why did you wait until she was 16?
I needed to feel I was ready too. You know I was still learning the ropes, getting experience in the field. I knew I wanted it to be a professional film that had a wide audience.
What is Avery's story?
 Avery's story is really one about grappling to find your identity and to understand your place in society and in your family. In her particular case, she was adopted at birth … and grew up as an African American child and as the daughter of white Jewish lesbians.
[She] had contact with other black people but didn't have a really strong community of African Americans. In her teen years, when she became really aware of racial differences,  she started to want to connect and reach out to a world she had been [only] a part. Her mothers were very supported but we knew she had to do it in her own way which was difficult at times … and took on a really challenging journey.