A tranquil garden of academic success
M.B. Miller | 7/14/2010, 7:24 a.m.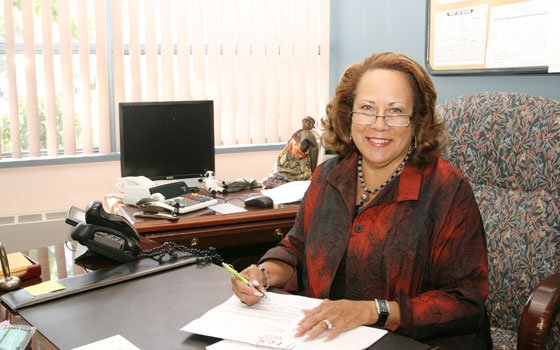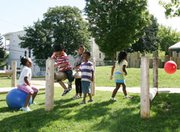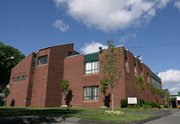 The recently added natural garden at the Crispus Attucks Children's Center symbolizes the high standards at the Roxbury institution

Lesley Christian, president of Crispus Attucks Children's Center, is committed to providing a safe and nurturing educational environment for the children to thrive in. (Yawu Miller photos)  
Last May, Crispus Attucks inaugurated the city's first natural playground, which the children are seen playing in above.  
Crispus Attucks Children's Center was established in 1971 and serves children from 1-month-old to 6 years old from the Greater Boston area. 
A place of peace and tranquility unfolds when driving through the gates of the Crispus Attucks Children's Center. The grounds are well maintained and the two brick buildings suggest a place of serious purpose. Keith Motley, the Chancellor of UMass-Boston, once called Crispus Attucks "the college campus for toddlers."
That is an appropriate description. One would think that an institution for children 1 month to 5 years old would be a beehive of frenetic activity, but that is not the ambience at Crispus Attucks. The babies are playing contentedly or being cuddled, and older children seem self-controlled, as though they are very serious about being in preschool.
This spirit suits the president, Lesley Christian, who proudly asserts "our emphasis has always been on preparation for academic success." The staff are not just babysitters, but qualified early education instructors. Literacy is emphasized as an appropriate curriculum for the very young. "Literacy and verbal communications are key elements of later academic success," stated Christian.
"Infants are taught to communicate using American Sign Language, even before they can speak," she said. "And there is a library corner in every classroom. The staff read to children and encourage parents to borrow the books and read to their children at home."
The development level of each Crispus Attucks child is determined when they are admitted, and periodic assessments assure that they are progressing at their age level. When development stagnates or regresses, Crispus Attucks staff intervene.
"Sometimes the problem is something outside of class," explains Christian. "That is why we interview the whole family on intake, and we try to bring family support services here when needed rather than refer our families elsewhere."
The staff is aware that Crispus Attucks is a safe and peaceful environment, and they want to keep it that way. "We impose levels of respect and require timelines," claimed Christian. "We do not tolerate abusive conduct or language from children or their parents. What may be acceptable in the streets is out of place here."
Last May, Crispus Attucks created a flurry of media activity when it inaugurated the city's first natural playground at a preschool. Gone were the jungle gyms and the swings. Instead was a green play yard with wooden forts to whet the children's imagination, a garden area where each class can grow their own vegetables, a graded path for running and a log apparatus for performing muscle strengthening exercises.