Teaching for America, right here in Boston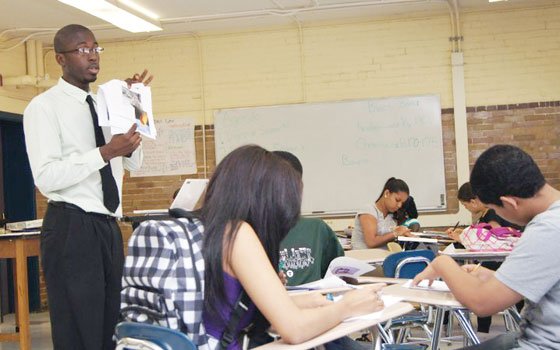 Scattered across a classroom at Newcomers Academy in Dorchester are bright charts and diagrams drawn in every color of the rainbow.
They show the human digestive system and Newton's laws of motion. The students hunch over the diagrams as they study for the physics portion of their final exam, working in groups on a handout that asks to them describe "motion" and "rest," as well as naming all of Newton's laws.
They read the questions aloud as each group discusses the answers in different languages —Spanish and Portuguese rising above the chatter with English woven in between.
"What I can do right now, as far as what I can say to them, that was not happening in September or even January," Teach for America instructor, Evin Nembhard, 22, said.
At Newcomers Academy, students are grouped not by age, but by English proficiency.  Nembhard's students are between the ages of 14 and 20 who recently immigrated to the United States. Even though his classes are focused on the sciences, he is tasked with teaching basic English terminology as well.   
"You have to use a lot of pictures, you have to speak much more slowly, be very careful and deliberate in the words you choose." He said he front-loads a lot of the vocabulary, such as the terms "rest" and "motion" when discussing "inertia," or Newton's first law of motion.
Nembhard is one of 50 Teach for America (TFA) participants completing the first year of the program in metro Boston. Like Nembhard, his 49 peers also overcame tough challenges as they spent the year attempting to close the achievement gap.
At the beginning of the school year, each TFA participant set lofty, yet measurable goals. Using the tools provided for them, they then tried to achieve them. At the end of their first year in Massachusetts, before the test scores are even returned, the sense is that the program is a success.
"Principal satisfaction has been high," said Josh Biber, executive director of TFA — Greater Boston, "One hundred percent of our principals in February said our folks were as good or better as other beginning teachers. … We are actually seeing that translate into hiring, so last year at this time very few of our folks had secured their positions and today more than half of our teachers already have their positions."
And the program is growing. Next year, 75 new teachers will work under TFA guidance. They were chosen out of a selective application pool that included 1,500 local applicants and almost one in five Harvard graduates. These teachers will work in the same public school districts as the current 50: Boston, Cambridge, Chelsea and Revere, as well as in charter schools and the newest community to come on board, Lawrence.
Biber credits the growth and success of the program not only to legislators who said they feel a new-found sense of urgency to close the achievement gap coupled with the need to have new teachers in Greater Boston.