Banner Biz QandA
7/6/2010, 9:18 p.m.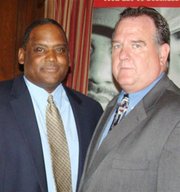 What does a business owner need to take to a lender in order to apply for an SBA loan?
Before meeting with a lender, be prepared to discuss your proposal in detail, and you should have the following information available for the lender to review: your business plan; your personal financial statements; your business financial statements (if already in business); collateral available to secure the loan; assumptions used in your projected earnings statements management resumes of those involved in operating the business and pro-forma balance sheets showing what the business would look like if the loan were granted. We have technical assistance partners that can assist with that process at no cost to you.  
What types of loans are available through the SBA?
While SBA does not make direct loans, it does guarantee loans made to small businesses by our lending partners and we have a wide array of programs to help businesses in all stages of the growth cycle. First, the SBA offers the 7(a) Loan Program. This is SBA's primary and most flexible loan program, with financing guaranteed for a variety of general business purposes including working capital, equipment purchases and business real estate.
The CDC/504 program provides long-term, fixed-rate financing to acquire fixed assets such as real estate or equipment, for expansion or modernization. This program is delivered by SBA's network of CDCs (Certified Development Companies) — private, nonprofit corporations set up to contribute to the economic development of their communities. The primary benefit is that a small business can arrange a real estate purchase with a low equity injection and below market interest rates, which are currently about 5.25 percent fixed for 20 years.    
The SBA also provides smaller loans through the Microloan program. SBA Microloans are short-term loans of up to $35,000 for working capital or the purchase of inventory, supplies, furniture, fixtures, machinery and/or equipment. These loans are delivered through specially designated intermediary lenders (nonprofit organizations with experience in lending and technical assistance).
Go to the Massachusetts SBA website for a list of participating lenders at www.sba.gov/ma or call the SBA Massachusetts District Office at 617-565-5590.
What services are available for a struggling small business?
Temporary loan enhancements due to the Recovery Act have eliminated fees on some loans and have established higher guarantees, so lenders are more likely to approve loans.  So far in fiscal year 2010, more lenders have made loans in Massachusetts than in all of fiscal year 2009. With borrowing cheaper for small business, 398 different types of businesses have taken advantage of these savings in Massachusetts since the Recovery Act was passed. In addition to these enhancements to SBA's already existing loan programs, a new loan was created specifically to help struggling businesses pay down debt. SBA's America's Recovery Capital Loan Program can provide up to $35,000 in short-term relief. Each small business is limited to one ARC loan. ARC loans will be offered by some SBA lenders until September 30, 2010. Under the ARC loan, SBA provides the lender with a 100 percent guaranty and SBA also pays the interest for the borrower for the life of the loan. A list of lenders who have made ARC loans can be found at http://www.sba.gov/recovery/arcloanprogram/.