Arts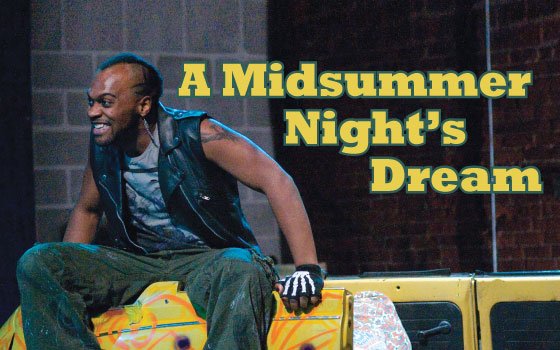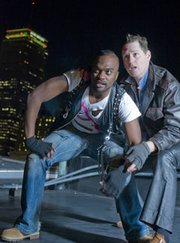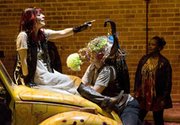 (Photos courtesy of Stratton McCrady)
Wielding magical potions, fairies outfitted in black leather rather than gossamer wings meddle with bumbling mortals in the Actors' Shakespeare Project production of  "A Midsummer Night's Dream."
Playing through Jan. 24th at Midway Studios in Fort Point Channel, this smart, exuberant production moves Shakespeare's great comedy from its traditional woodland setting into a dimly lit urban alley populated by a punk-goth gang of fairies.
Performed by skillful actors and inventively directed by Benjamin Evett, who also devised the sets and costumes, the production mines the rich high and low comedy and notes of mystery in Shakespeare's masterpiece.
The play explores the power of unseen forces in daily life, pulls of heart, imagination and spirit that humans ignore at their peril. All of this is played out by a group of burly workmen tackling a play, a set of confused upper-class couples vying for control of their respective destinies and a parallel fairy kingdom that is also seething with power struggles.
 With deft lighting by John Malinowski, subtle musical accents by sound designer Cameron Willard and evocative choreography by Midway Studios resident artists Billy and Bobby McClain, Evett conjures the journey of these mortals from the brightly lit certainty of daily life into the shadowy realm of imagination and ambiguity. Here, transformation awaits at the hands of spell-casting tricksters.
The play opens in the court of Theseus, duke of Athens (Curt Klump), and his betrothed, the Amazon queen Hippolyta (Autumn Elise Henry), whose wedding is four days away. Egeus (Dayenne Byron Walters) storms in with his daughter, Hermia (Mara Sidmore), who refuses to marry Demetrius, whom he has chosen as her husband.
While Demetrius (Christopher James Webb) skulks and rolls his eyes, the man Hermia loves, Lysander (Shelley Bolman), strides in and ardently states his case as a worthy match for Hermia. But Theseus sides with Egeus. As Henry's face registers her qualms, Theseus declares that under Athenian law, her choices are a nunnery or death if she does not obey her father.
Helena (Jennie Israel) enters, pleading her love for Demetrius, who has jilted her to assert his claim to Hermia's hand. Her marvelously expressive face combines chagrin with a comic note, an infectious blend that she injects into her every scene.
None too soon, the action shifts from court into the wild — in this production, a patch of graffiti-pocked urban wasteland, where Hermia and Lysander have fled to elope with Helena and Demetrius in hot pursuit.
Nearby, other mortals have ventured outside their familiar environs. A quartet of tradesmen is rehearsing a play for the duke's wedding entertainment, the tale of ill-fated lovers Pyramus and Thisbe. The group is led with jack-in-the-box vigor by Peter Quince, played by John Kuntz, and Nick Bottom, performed by Robert Walsh with ebullient good nature, whether he is jostling to take all the parts or later, being preened by an adoring fairy queen.
Walsh plays Pyramus to a strapping Thisbe performed by Boston Conservatory undergraduate Trent Mills. Armed with a clipboard and coffee at the ready, Boston Arts Academy student Lenise Farrier offers a droll counterpoint to the delightfully manic Kuntz as he directs the group, which includes Nelson Martinez, also from the Boston Arts Academy, and Karl Baker Olson.