Comedian Sinbad still strong in stand-up after 30 years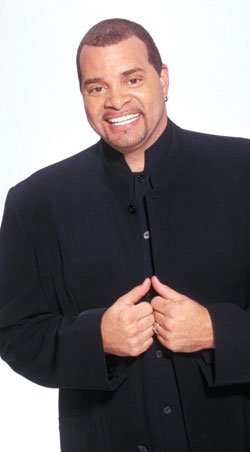 Some people know him as that guy from"A Different World." Others remember him from "The Sinbad Show." Then there are those who think of him as that comic with a sailor's name that seems to keep everyone laughing.
Sinbad doesn't care how you recognize him — just as long as he can bring a smile to people's faces.   "This is what makes me special," he said.
The 53-year-old comic is expected to bring laughs into Boston when he performs at the Wilbur Theatre this week as part of his non-stop touring schedule. With more than 26 years of comedy under his belt, you would think the entertainer would take a break.
No way, he says: "I have never been off the road. Whenever I had a vacation, I was still on the road. I'd still do an act at a club."
 Sinbad, whose birth name is David Adkins, caught the comedy bug while in the Air Force during his younger days. While in the military, he played on the basketball team until a knee injury put him on the sidelines. During his recovery, he realized he enjoyed "playing" rather than living under the structure of the military.
 His opportunity would come in the form of stand-up comedy, when the Air Force talent show rolled through his base.  He decided to participate, and the laughs he earned proved addictive — so addictive that he quit the military. The military didn't look too kindly upon that, and he found himself chasing his dreams with little more than the clothes on his back. "I got kicked out of the Air Force," Sinbad recalls. "I had nothing but my clothes in a duffle bag. I started going out taking buses and I would go to nightclubs and comedy clubs."  
Sinbad says at the time, the path to being a successful comedian led to Los Angeles.  His problem — he knew nothing about that city, or how to get there. "All I knew about L.A.  was Soul Train, and a cousin I had  [there] with an Afro. I didn't know how to do that."
Some nights, he wasn't even sure where he was going to sleep. He does remember that there was a network of sorts for comedians who were traveling through town. "They had these places called 'Comedy Condos', and I would stay there," he says.
 His hard work eventually led to winning a spot on the '80s televised talent show "Star Search." That appearance opened up other opportunities, and he began showing up on television series like "The Cosby Show" and "A Different World."
 However, while breaking into TV meant a greater audience, he had no desire to abandon his stand-up.  "Stand-up belongs totally to us," he explains. "As a comedian, it is me. It is what made us what we are. The only reason I am doing TV is that someone saw me."
The "us" he is referring to are some of the comic legends who either inspired him, or people he worked with on the comedy circuit.  "Think about it," he says. "Cosby, George Carlin, Jay Leno. Comics never stop doing comedy."