A trumpet for his times (and ours):
1/13/2010, 5:55 a.m.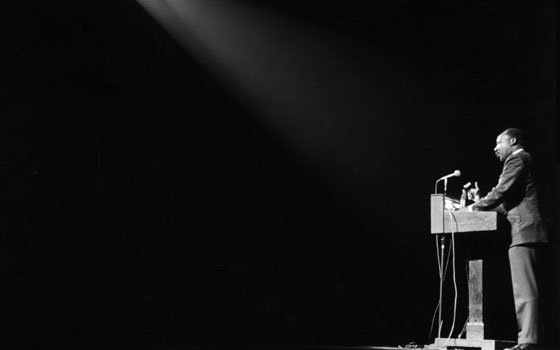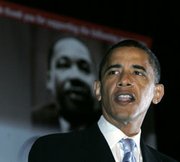 Hodgson's King examines MLK in Age of Obama
Godfrey Hodgson, a British journalist who knew and covered Rev. Dr. Martin Luther King, Jr., offers the first Obama Era examination of the leader of the Civil Rights Movement. Though published by a university press, Hodgson's work is as accessible as a trade imprint.
There are several factors that distinguish "Martin Luther King" from previous efforts. At 231 pages, it is not an overpowering treatment, though in some aspects of King's life and efforts, more detail would have served readers well. The author focuses far less attention on King's social and studious growth at Morehouse College, Crozier Theological Seminary, and Boston University, than David Levering Lewis (King, 1970). In Lewis' biography, King's scholarship and philosophical growth are subject to intense analys isand figures such as segregationist police chiefs and SNCC firebrands come to life. This newest book also lacks the vivid play-by-play authors such as David Garrrow ("Bearing The Cross" 1986) and Taylor Branch ("Parting The Waters: America In The King Years") brought to the well-worn, battle narratives of Montgomery, Albany, Birmingham and Selma. Branch lent Biblical gravity to his coverage of such pivotal King challenges. Much of the difference may be attributed to Hodgson's economic, journalistic style.
 Unlike the aforementioned writers  Hodgson's biography is almost absent of quotes and recollections from MLK's colleagues, opponents, or journalists of the era. Perhaps because, in instances such as the events at Selma, Hodgson was there himself, he does not incorporate the memories of Movement participants. This text could have benefited from more detail about how Albany, Ga. Police Chief Laurie Pritchett thwarted Movement tactics by not resorting to the violence later associated with Birmingham's "Bull" Connor and Selma's Sheriff Jim Clark. In one place, Hodgson correctly identifies Coretta Scott King's alma mater as Antioch, later in the book he calls her an Oberlin alum — an understandable conflation given the prestige of the two progressive Ohio bastions, but unforgivable in a review copy.
The author excels in explaining the political stances and stakes of persons as varied as esteemed Georgia Senator Richard B. Russell, President John and Attorney General Robert Kennedy, Birmingham "Big Mule" of the steel industry and Chicago Mayor Richard B. Daley. Readers will gain unique insight into the mindset of these and others whose interests affected King's campaigns. SNCC firebrands, Black clerical rivals and the NAACP — all their motives and opposition to King receive even-handed treatment.
 There is information here that is new to mainstream MLK scholarship. We learn that under the auspices of the FBI, the location of Freedom Summer murder victims Michael Schwerner, James Chaney and Andrew Goodman was elicited by Mob figure Gregory "The Grim Reaper"  Scarpa sticking a pistol in the mouth of a Klansman television repairman. Hodgson uncovers reports of misappropriation and rape among the ranks of Mississippi SNCC workers, solicitation of prostitutes, as well as the near-rape of a staffer in King's Southern Christian Leadership Conference in 1968. According to Hodgson, King admitted infidelity to his wife Coretta after her January 1968 hysterectomy. He also identifies a few King mistresses, among them trailblazing Kentucky State Senator Georgia Davis (Powers), down to her very room number in the fatal Lorraine Motel the week King was assassinated. Considerable attention is paid the leader's (and his Movement cohorts) "unreconstructed" sexism regarding the many female admirers he encountered. King's final two years are saddled here with "severe depression" and "drinking heavily."