Martha Coakley  for U.S. Senate
1/12/2010, 7:10 a.m.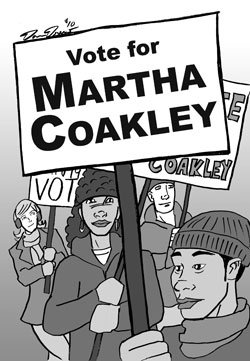 Martha Coakley  for U.S. Senate
In the conclusion of his speech at the 1980 Democratic National Convention, Sen. Ted Kennedy said: "For all those whose cares have been our concern, the work goes on, the cause endures, the hope still lives, and the dream shall never die." Indeed those words still ring true today as the citizens of Massachusetts seek a candidate to fill the Senate seat left vacant by Ted Kennedy's death.
The benefactors of Sen. Kennedy's legacy have a solemn obligation to keep that spirit of public service alive. Kennedy's legislative skills were extraordinary in the history of the U.S. Senate, so there is no expectation to clone him, but there is the possibility to elect someone whose political views are similar and whose intellectual gifts can comprehend the complexities of a changing world.
That candidate is Attorney General Martha Coakley. Just one issue should confirm the decision. As a Democratic senator, Coakley would be part of the bloc that supports public health reform. Her Republican opponent would be all too eager to join with the unanimous republican opposition against efforts to make health care available and affordable to everyone. Case closed!
Of course Coakley has numerous other qualifications that make her the superior candidate, but it is best to focus on health care and encourage friends and relatives to go to the polls on Tuesday, January 19. The country needs Coakley in the continuing battle in Washington over health care reform. We owe it to the late Sen. Ted Kennedy to show up at the polls on January 19 to help cement his legacy and assure future health care for all.
Innovation at City Hall
A major concern of term limits advocates is that long time incumbents will simply run out of innovative ideas. Boston Mayor Tom Menino put such fears to rest as he embarked upon his fifth inauguration. He made it clear in his inaugural address that he was ready to approach the issues confronting Boston with "a sense of renewal and possibility."
When hearing the Mayor's commitment for the new term, it is important to remember that he won his more challenging campaign with a comfortable 57 percent of the vote. Clearly, the electorate was satisfied with how Menino had governed in the past. Nonetheless, the Mayor has decided not to rest on his laurels, but to pursue innovative ideas to improve conditions in the city.
Cynics might consider Menino's remarks to be mere political rhetoric, but that would be a mistake. The Mayor clearly sees that Boston needs a new form of civic engagement if the city is to move forward. Every citizen must become a member of a committee of the whole to "… create jobs, build even stronger, safer neighborhoods, improve our schools, and provide more affordable housing."
Menino has taken an extraordinary step to show his commitment to the new direction of his administration by appointing as his chief of staff, an individual with uncustomary qualifications for the job. Not only is he not a political operative, he also has no substantial history in Boston. Michael Weiss is a 33-year-old Harvard Business School graduate and Chicago native who gave up Wall Street in order to resolve urban problems.
Menino has already broken the record as the longest serving mayor in Boston's history. With the new plan for his administration he is likely to become the most productive. Now it is up to every citizen to rise to the challenge and work with City Hall to enable Boston to become the nation's most livable city.