The team that changed the world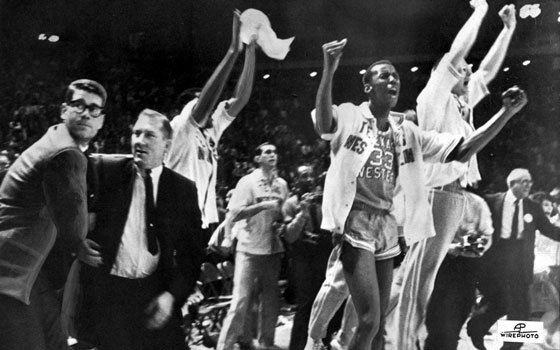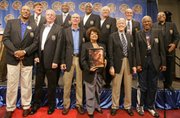 In this March 19, 1966 file photo, Texas Western College head basketball coach Don Haskins, second from left, and players celebrate after winning the 1966 NCAA basketball championship in College Park, Md. (AP Photo)
Members of the 1966 NCAA Championship Texas Western team pose for their picture during a media availability at the team's induction into the Basketball Hall of Fame in Springfield, Mass., Friday morning, Sept. 7, 2007. (AP Photo/Stephan Savoia)

EL PASO, Texas — Forty minutes of basketball produced 40,000 pieces of hate mail.
The world in 1966 was not ready to accept Texas Western's defeat of Kentucky for the NCAA basketball championship. A team with five black starters jolted many people, and its triumph over an all-white bastion of Southern basketball elevated the game to a broader discussion about segregation and race relations.
In the beginning, the outcome motivated all those venomous letters that found their way to the mailbox of Texas Western coach Don Haskins.
Today, the game remains one of the most-discussed sporting events in history. But the conversation has changed, just as it did after Jackie Robinson broke baseball's color line in 1947 and after Muhammad Ali refused induction to the Army in 1966 by famously declaring, "I ain't got no quarrel with them Viet Cong."
Texas Western, now the University of Texas at El Paso, went down in history as the team that changed recruiting and opened doors for black students at schools that once excluded them.
Nevil Shed and Dave Lattin, two members of the 1966 team, say no game could have been better. Both were 22 when Texas Western won the national championship. They are 66 now, and have had most of a lifetime to enjoy it.
"I've been on a Wheaties box and I've met the president because of that game and the history it made," Shed said in a recent interview from his home in San Antonio.
He also has been portrayed, inaccurately in parts, in the most high-profile account of the championship season. The movie "Glory Road" contained a fictitious scene in which thugs dunk Shed in a toilet. Sure, it was Hollywood embellishment at its worst, but it did not bother Shed.
"The point is that a lot of people were dissatisfied because of our success," said Shed, who at 6 feet 8 inches and 185 pounds, was known as "The Shadow." "We took their negative energy and turned it into positive action."
Lattin, an exceptional leaper and thunderous dunker, got far less attention in the movie than Shed. He spent $40,000 in 2006 to publish his own book about the championship team, "Slam Dunk to Glory."
As a high-school star in Houston, Lattin averaged 29 points, 19 rebounds and 13 blocked shots a game for a state championship team.