Roxbury Stingrays compete in and out of swimming pool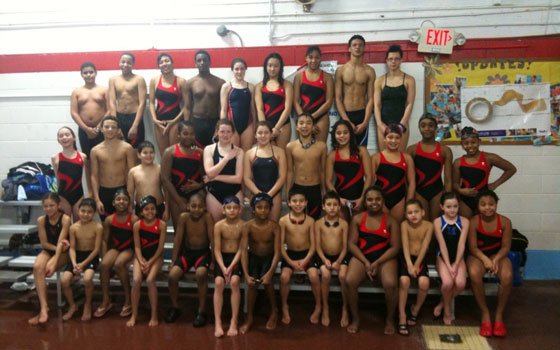 At least this problem had a solution. Pam Alexander wanted her daughter, Simone, to participate in a sport. But none of the usual offerings caught the 12-year-old's attention.
That changed after a meeting with Jeff Worthy, a Boston Police harbor patrolman and part-time swimming coach at the Roxbury YMCA. For the last several years, he has trained an ethnically diverse group of boys and girls ranging in age from as young as 5 to as old as 19 in competitive swimming.  
Alexander said she had an even more basic reason for signing up her daughter. "My mother had a fear of water, but I don't, and I wanted to make sure that my daughter does not either," she said.
It's worked out far better than that.
In the almost four years that Simone has been swimming with the Stingrays, Alexander has seen her daughter's confidence grow and her fear of competition diminish. "This is a sport for a lifetime," Alexander said.
It's also a sport of practice.
Six and seven days a week are not out of the ordinary.
Members of the coaching staff, which include Fred Ellis of the Boston Fire Department and members of the Harvard University Varsity Women's Swim Team, encourage the youngsters to keep up with the vigorous training.   
Perhaps most of the team's pride is centered around the fact that traditionally people of color are not competitive swimmers — and some even have a fear of the water. "We train hard," Worthy said. "and when we walk onto pool decks at swim meets, we look like the United Nations…Swimming talent is definitely an un-utilized market within black and inner city communities."
Like any sports team, the Stingrays are supported by a group of involved parents who remain active in their child's life and believe in the team's mission of promoting education, values, teamwork and good sportsmanship.
Other parents touted the structure of the Stingray swim team — its discipline, sense of teamwork and encouragement — as reasons for curing their child's Attention Deficit Hyperactive Disorder (or A.D.H.D.), improving their academics and exposing them to other cultures.
"The principal, vice principal and Coach Worthy are all involved in my daughters development," said Ilia Maldanado of Roslindale.  
Her daughter, Iliana Sanchez, started out with the swim classes and then progressed to the competitive team.
"I told her that in order to stay on the team, you have to be doing well in school, and that is where the collaboration between teachers and coaches comes in," Maldanado said. "Being a part of this team has taught my daughter about time management."
In March of 2009, Worthy reached out to the Harvard women's varsity swim team with the hope of gaining high-level coaching and adult mentors for the young swimmers.
 Natalia Festa, a Harvard University senior and member of the Harvard Women's team who competes in backstroke and butterfly events, coordinated the community effort that connected the two worlds around the sport of swimming.
"We work hard in practice, but also encourage the kids to ask us anything, and we act as mentors," said Festa. "Swimming is a sport that requires you to focus on yourself so much, but within this role my teammates and I are able to use swimming to offer valuable life skills and other things to other people."