Patrick's call to excellence
2/17/2010, 2:32 a.m.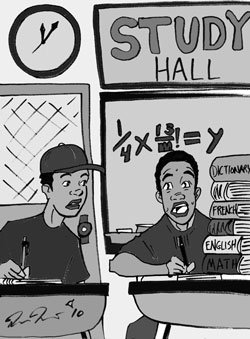 Patrick's call to excellence
On Martin Luther King Jr. Day, Jan. 18, Gov. Deval Patrick signed into law an updated Education Reform Act. With this gesture, Patrick affirmed that quality public education is a civil right for all Americans. And by signing the legislation, he acknowledged that state government has a major responsibility to underwrite substantially the cost of that education.
Political polity once required that real estate taxes in the cities and towns finance the cost of secondary public education. That was adequate when the cost of public education was relatively modest. However, when the expected level of educational achievement increased, costs rose and cities and towns had to depend on more local aid from the state.
As recently as 1950 only about five percent of Americans in the 25-29 age bracket had earned bachelor's degrees, and only 58 percent of this group had graduated from high school. By 2003, 25 percent of the 25-29 year olds had received at least a bachelor's degree and 85 percent had graduated from high school. The era of high technology and sophisticated communications requires an increasingly more robust public education curriculum.
About 20 years ago, the Massachusetts Legislature recognized the deficiency in public education, and after considerable effort the Education Reform Act was passed in 1993. Despite the promise of higher academic achievement, there was considerable opposition to the Act. One objection was the annual tests in math and English Language Arts (ELA) which are called the MCAS tests. Even more threatening was the requirement for a student to pass the MCAS in grade 10 in order to graduate.
In Boston when MCAS tests began in 1998, 57 percent failed the 10th-grade ELA and 75 percent failed the math. However, by 2009 only 9 percent failed the ELA and 64 percent were proficient or advanced and 14 percent failed the math while 62 percent were proficient or advanced. Those who failed were able to get tutoring and were able to retake the test in order to receive a high school diploma.
Clearly, education reform in Massachusetts has been successful. It became a model for the nation. Upon taking office, Patrick quickly assumed leadership of continued education reform in the state. In August of 2007, Patrick created the Commonwealth Readiness Project to develop a 10-year strategic plan to enable students to enrich their lives by achieving their full academic potential.
Thoughtful planners understand that a highly educated and creative population is essential for the United States to maintain its economic superiority. Other nations are now working vigorously to close the industrial gap. Unfortunately, past Republican administrations in Washington have not been attuned to the academic challenge.
In 1980, Ronald Reagan tried to abolish the federal Department of Education. He was unsuccessful, but in 1996 the Republican platform still asserted that "the federal government has no constitutional authority to be involved in school curricula." Conservatives still believe that education reform is a states' rights issue. President George Bush's "No Child Left Behind Act" was a departure from the conservative view but it involved excessive unfunded mandates. More than 92 percent of the money for reform was to come from state, local and private funds.
Patrick has already obtained almost $2 billion in federal education aid for the state. The goal of his support of the new Education Reform Act is to "turn around underperforming schools, promote innovation and choice and eliminate achievement gaps." Judging from the opposition to the 1993 Act, some opposition is to be expected now as stakeholders scramble to preserve their turf. However, the Patrick administration strongly believes that this is a battle worth fighting.