Arts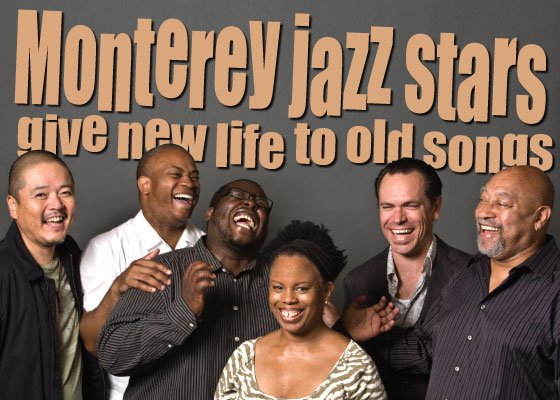 Words were a powerful presence in the elevating evening of jazz performed by the Monterey Jazz Festival on Tour last Thursday at the Berklee Performance Center.   
Whether sung, implied or reinvented, lyrics accompanied most of the selections by the all-star ensemble, comprising pianist Kenny Barron, jazz violinist Regina Carter, vocalist Kurt Elling, guitarist Russell Malone, Johnathan Blake on drums and Kiyoshi Kitagawa on bass.
Presented by the Celebrity Series of Boston, the concert was an early stop on the group's nationwide itinerary. An annual production of the Monterey Jazz Festival, its Festival on Tour brings together renowned jazz musicians, who coalesce into a collaborative unit in the course of weeks on the road.
Considered one of the greatest jazz pianists performing today, Kenny Barron is an elegant and agile musician with a muscular stride undertone when he wants it. Barron and his frequent collaborators, Kitagawa and Blake, were the spine of the ensemble. Barron's spare phrasings and restraint injected both swinging momentum and quiet interludes within the group's free-flowing improvisations.  
If Barron was the ensemble's backbone, Carter was its heart, her generosity and warmth infusing her selections and her give-and-take with her fellow musicians.
Elling was the group's host and voice, not only as the singer on duty but also the spokesman introducing the program. A dapper figure, Elling described the ensemble as "a collective" and a "supergroup" and spoke of their tour as "a special project" with a program that varies from night to night. Its simple, egalitarian format lets each featured artist choose a few songs.
Gifted with a rich baritone that spans four octaves, Elling turned to music after graduate study at the University of Chicago Divinity School. Like Carter, he quickly rose to fame and routinely tops critics' and readers' polls as best male jazz vocalist. His 2009 album "Dedicated to You: Kurt Elling Sings the Music of Coltrane and Hartman" received the 2010 Grammy Award for Best Jazz Vocal Album.
Like the legendary jazz singer Jon Hendricks, whom he speaks of as "a father figure," Elling is a master of "vocalese," the practice of adding lyrics to jazz instrumentals. Elling is eclectic, even exotic, in his sources, writing original lyrics but also setting lines from Walt Whitman and beat poet Kenneth Rexroth to jazz compositions.
Trained on the Suzuki violin when she was a toddler in Detroit, Carter grew up around jazz and also played in the city's symphony orchestra. She was inspired to master the jazz violin after hearing Stéphane Grappelli in concert. In 2001, Carter traveled to Genoa, Italy to play the hallowed 1743 Guarneri violin of Niccolò Paganini (1782 – 1840), becoming the first jazz musician and African American to do so. The following  year, she returned to record "Paganini: After a Dream" on the violin.
In 2006, Carter received a $500,000 fellowship, known as a "genius grant," from the John D. and Catherine T. MacArthur Foundation.
Carter introduced her first selection, "When I Grow Too Old to Dream," a standard written by Oscar Hammerstein II and Sigmund Romberg for the 1935 film, "The Night Is Young."