Artist paints black history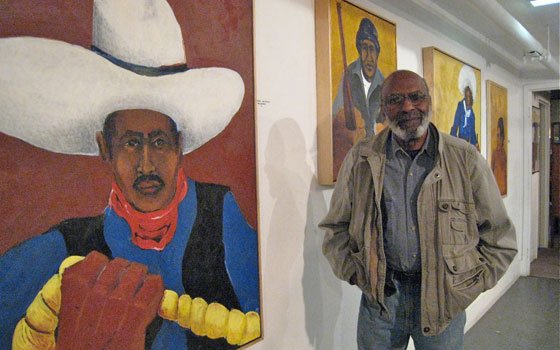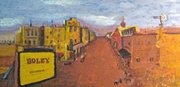 Hank Kearsley is a teacher at heart.
Viewers of "Quest for Freedom: A Visual History," the 80-year-old artist's exhibit at the Piano Factory Gallery this month, will surely encounter some history not often taught in schools.  
The larger-than-life portraits in his "Black West" series, for instance, highlight the stories of blacks who went west after emancipation.
Bass Reeves was one of them. Born into slavery, Reeves became a U.S. Marshall in the Indian territory of Oklahoma in 1875.
Another was Mary Fields, a.k.a. "Stagecoach Mary," a big, tough, cigar-smoking woman who survived wolves and blizzards while making deliveries for a Montana mission school for Blackfeet Indians. She also drove a U.S. mail route, opened a restaurant and started a laundry service.
Another African American pioneer, Alvira Conley established a laundry business in a Kansas frontier town before becoming a governess and traveling the world with her employers, a wealthy family that supplied dry goods to the railroads.
Kearsley moves beyond individuals and captures communities in other paintings. One of these depicts Boley, Oklahoma, a prosperous, predominantly black town formed in the early 1900s, one of the few towns still in existence.
"I think of what they did to black townships," the artist said while making final tweaks in the gallery the night before the opening. "Once they got prosperous, they tore them down."
Kearsley's "Migration" series portrays the south-to-north movement of black people between the 1920s and the 1960s.
"People came north any way they could—trains, cars, whatever—and came to [the cities] looking for jobs," he explained.
 His own mother was part of that migration, coming from the south as a young woman to Croton-on-Hudson, N.Y. where she worked in the home of a wealthy family. Kearsley's father was a local man who worked as a chauffeur.
Later on his father would open the first black-owned business in Croton, an ice delivery business.
Other works stem from Kearsley's own modern-day experiences.
"Racial Profiling" brings to life the terror of being pulled over on a New Jersey road by seven cops. The officers let him go—but "it was pretty scary," he said, "I didn't know what they were going to do."
In the painting, the traffic stop melds with visions of jail cells, lynched bodies and Ku Klux Klan robes. A trooper's necktie is exaggerated to look like a rope.
"It's all about telling stories," he concluded.
"Slave Garden" was born of a trip Kearsley took to South Carolina, where he found plantations turned into resorts. Golf courses cover land once tended by slaves, and former slave quarters are rented out as vacation homes. His painting suggests the bodies of slaves under the ground, and shows a slave woman sewing a quilt, which becomes the shirt of a white golfer.
Kearsley paints with oils and acrylics and often adds collage elements with found materials. Sometimes all three come into one painting, "probably because I taught for so many years," he explained. "When you teach, you use everything. Different materials give me texture. But it's all shapes and colors, that tie in with each other."