Oil heat program launch warms Harlem Co-op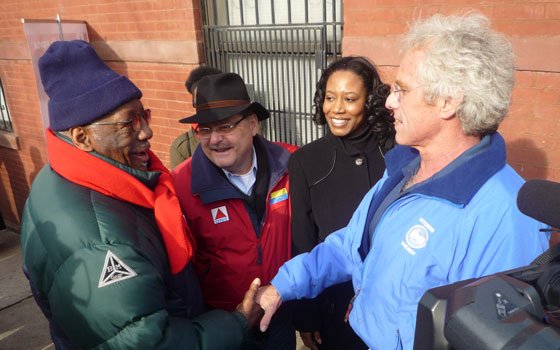 NEW YORK — Chyresse Lopez pushed through the sidewalk crowd to get a better look at the blue-jacketed delivery man hauling a hose up to the fill-pipe of her Harlem apartment building.
"I can't believe it," she said. "Joe Kennedy is really going to fill our tank."
The Kennedy in question was former Massachusetts Congressman Joseph P. Kennedy II, founder and chairman of Citizens Energy Corporation.
The made-for-TV tableau of Kennedy delivering heating oil to a tenant-owned cooperative in the heart of Harlem was the backdrop last week for the launch of the 2010 fuel program run by the Boston-based non-profit in partnership with CITGO Petroleum.
Kennedy shouldered his way past photographers and cameramen to attach the hose to the sidewalk fill-pipe and flip a switch atop the brass nozzle with a flick of his stained orange gloves. "Hear that?" he said, indicating a low whistle from the hose. "That's the sound of warmth."
Over the last five years, CITGO, owned by Venezuela's national oil company, has donated heating oil to Citizens Energy, which distributed it last year to some 200,000 low-income households in Massachusetts and 22 other states, including over 40,000 cooperative units spread across 800 New York City apartment complexes.
 Lopez's 17-unit building, at the corner of 130th Street and Amsterdam Avenue, houses about 40 tenants and two commercial clients on the ground floor. Like many dwellings in Harlem, the five-story brick apartment building was rapidly heading toward gentrification during the 1990s real estate boom when residents banded together to purchase it.
"Our rents are low and don't cover all our expenses," said Lopez. "Without the heating assistance from CITGO and Citizens Energy, we would go under. We would lose our homes and our building would become another expensive condo that we couldn't afford."
The heating initiative also provides fuel to 250 homeless shelters and 73 Native American tribes living in more than 250 communities from Alaska to Maine. Cheyenne River Sioux Chairman Joe Brings Plenty, in New York to participate in the launch, said families on his South Dakota reservation depend on the assistance to fend off temperatures plummeting to 30 below and winds shipping down from the Canadian arctic at 40 miles an hour.
"The program has saved many Sioux and American Indian people from the bitter cold," said the Lakota chief.
Alejandro Granado, president of the Houston-based oil company, said CITGO's commitment to helping poor families shoulder rising energy costs began in the wake of Hurricane Katrina, which sent oil prices skyrocketing after supply lines and refineries shut down.
"CITGO is very proud to mark the fifth anniversary of our heating oil program, our flagship social development initiative, which is in alignment with the solidarity principles endorsed by the government of the Bolivarian Republic of Venezuela," said Granado.
Kennedy, whose company has provided heating assistance to needy families since 1979, said he wrote to every major oil company and oil-producing nation in the fall of 2005 seeking help for households dependent on heating oil to stay warm but that only CITGO and Venezuela responded. "They were the only ones to offer a life-line to the poor," he said.