Tavis Smiley talks about his latest special report on conductor Gustavo Dudamel and the fate of music education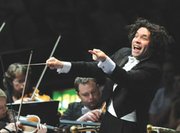 Tavis Smiley talks about his latest special report on conductor Gustavo Dudamel and the fate of music education 


Due to school budget cuts across the country, music education programs are being eliminated from school curricula at a rapid pace. However, many concerned individuals, including Los Angeles Philharmonic conductor Gustavo Dudamel, are adamant about ensuring that kids continue to be exposed to the enriching world of music.
The fourth installment of PBS' Tavis Smiley Reports is "Gustavo Dudamel: Conducting a Life," and profiles the young conductor and asks the question: What price will the country pay for abandoning music education for our children?
I really enjoyed watching this primetime special. What inspired you to devote the show to Dudamel and his mission to preserve music programs in schools?  
Dudamel is obviously a rock star in the world of classical music. But for me, he's also a way of opening up a broader conversation about the price we are ultimately going to pay, as a country, for abandoning music education in our schools. Every study ever done underscores the value of music education to young children, and the benefits that come from being exposed to music early on. And yet, one of the first things on the chopping block, when we talk about public education, are the music programs. I just think that, long term, there's a heavy price we're going to pay for abandoning music education.
Dudamel is also passionate about this, because as a child he benefited from a publicly-financed music program in his native Venezuela called El Sistema, which is precisely the type of program we need in this country. So, there's no downside to doing a piece about Dudamel who Quincy Jones referred to as "The Next Leonard Bernstein." When Quincy calls you "The Next Leonard Bernstein," that's huge.
How do you think America can move away from a predominant focus on sports and provide equal funding for music and the arts? And what is the cost to society in the long run of eliminating funding for music and the arts?
Let me answer the second part of that question first. The cost, long-term, is too high. What we're abandoning is the one part of the school day devoted to encouraging kids to be creative, to think outside of the box, and to connect with their emotions. I believe that any generation that doesn't embrace music will be a lost generation. As far as what can be done about it, that's what the special is all about. Dudamel has a very ambitious plan to replicate the El Sistema program that he is a product of in big cities and small towns all across the United States. I think it starts, at a rudimentary level, with putting music back in the classroom. That's the least we can do as a starting point.
It concerns me that the focus of your special seems to be classical music; but when I think of the age and maturity level of a typical student, I know that in most cases they aren't going to jump on the classical bandwagon before the music they hear on the radio.