Give the gift of good eats: Books for cooks
Associated Press | 12/21/2010, 6:24 p.m.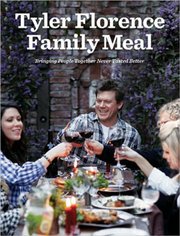 Got an uncle who insists on hunting wild mushrooms or butchering his own steak? There's a cookbook for that. What about a working mom hoping to please picky palates during the daily dinner deadline? We've got her covered, too. From DIY fanatics to busy families, even science geeks, this year's crop of cookbooks offers something for everyone.
Here are a few standouts to jump-start your gift-giving:
For the kids
For a book heavier on story than on cooking, check out "Soup Day"  (Henry Holt, 2010). On a blustery day, a little girl helps her mom select and chop vegetables for a warming winter soup. Idyllic and cozy with colorful, textured illustrations, the book also offers a perfect recipe for tiny hands.
For kids who like to make themselves a little something, "The Winnie-the-Pooh Cookbook" (Dutton, 2010) offers easy-to-follow recipes for smackerels like Poohandpiglet pancakes and honey toffee apples. Original drawings by Ernest Shepard and memorable Pooh quotes make this reissue of Virginia Ellison's 1969 classic a must-have for fans of the bear.
For devoted foodies who have it all
Amanda Hesser insists her "The Essential New York Times Cookbook" (Norton, 2010) is not an update of the Craig Claiborne classic, but rather a new chronicle of the best New York Times recipes dating back to 1850. Dense, serious and heavy enough to double as a weapon, the book covers everything from Claiborne's cheese fondue and vichyssoise a la Ritz to watermelon gazpacho and the pork belly tea sandwiches at a hip New York restaurant.
 As a practical follow to his best-selling appeal to eat for the health of ourselves and the planet, New York Times columnist Mark Bittman offers "The Food Matters Cookbook: 500 Revolutionary Recipes for Better Living" (Simon and Schuster, 2010).
The plant-heavy recipes focus on fast, easy dishes such as vegetable-rich green gumbo and chickpea salad with cashew chutney, as well as more involved undertakings such as Mexican-style fruit salad with grilled fish and chili-rubbed pork with warm pickled vegetables. Organized and accessible with recipe lists and pantry advice, the book will appeal to folks who love to cook and want to feel healthy (and virtuous) while doing it.
Rounding out the New York Times trifecta is Molly O'Neill's "One Big Table" (Simon and Schuster, 2010), a collection of 600 recipes that chronicle the diversity of American food. It features recipes taken from pit masters, farmers, home cooks and chefs around the nation.
The former Times food columnist includes recipes such as Farideh Khoury's muhammara, a Detroit mom's formula for the Syrian red pepper and walnut paste, and Mike DiMuccio's Rhode Island fried calamari, a plumber's pepper-spiked take on squid. With homey photos of some of her contributors, "One Big Table" is an album of America's rich culinary history.
For the baker
Cookies, cakes, pies and breads. If you can make it with flour it's in "The King Arthur Flour 200th Anniversary Cookbook" (Countryman, 2010). This indispensable volume from the famous flour miller also covers the science of baking, from primers on leavening, to notes on flaky pastry and hints for homemade pasta. A go-to reference for all baking needs.