Biotech consortium OKs RCC program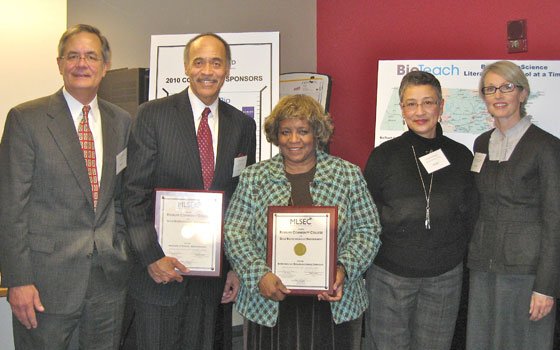 Roxbury Community College (RCC) is among eight Massachusetts community colleges receiving official endorsement from the Massachusetts Life Science Education Consortium (MLSEC) for their degree and certificate programs in biotechnology.
The schools were honored at a Dec. 8 ceremony at the Cambridge headquarters of MassBio and MassBioEd, the life sciences industry and education groups who paired up to create MLSEC, a new partnership of industry and higher education leaders.
MLSEC is focused on creating a strong pipeline of skilled workers to fill demand in biotechnology, an area that continues to offer job opportunities in Massachusetts even in a slowed economy.
"This is a good model, in a field that's deeply important," said Paul Reville, Massachusetts Secretary of Education. "We want to give community college students the kind of high-quality education that gives them success in the future."
Reville acknowledged there is an achievement gap in the so-called "STEM" [science, technology, engineering and math] fields; "By no means is everybody ready" for life science jobs, he cautioned.
He also expressed concern about what he termed an "inspiration gap." In a recent survey, high school students taking the SAT were asked about their interest in STEM majors. Only 22 percent of students in the commonwealth expressed interest in those fields, he said, compared to 29 percent nationally.
"It's alarming. Even though we're conveying knowledge to students, we're not doing a good job of inspiring them with the sense of discovery and possibility that turns people into scientists," said Reville. "That's why I love the internship component [of the endorsed biotechnology programs] — getting students engaged in this work firsthand."
RCC received MLSEC's "gold" endorsement for its associate of science degree program in biotechnology and its certificate program in biotechnology/biomanufacturing. The gold award goes to programs that not only provide a set of core competencies required for biotechnology jobs, but also require all students to complete an internship.
"It's certainly an important recognition for the college," said Dr. Brenda W. Mercomes, RCC's vice president of academic affairs. "It puts RCC on the map, academically."
Mercomes said RCC's biotech programs are relatively new, and the first small group of students in the programs graduated this past May. But numbers are growing, she said.
"It speaks to our faculty, who have PhDs in the sciences — something people don't know about community colleges," she added. "These Ph.D.-level instructors, they're doing what they really want to do. They do research, and teach students how to do research — but they love to teach, too."
Students don't necessarily arrive at community colleges with biotechnology in mind, Mercomes said. Many start out in liberal arts or general studies. If they perform well in a science course, a professor can open their eyes to the opportunities in biotechnology and other scientific careers.
Slots are still open in RCC's biotech courses, but Mercomes didn't sugarcoat the challenges. "It's a demanding program. It's heavy on sciences," she said. "These students have to really work hard."
Stefanie Bourn, a student in Middlesex Community College's biotechnology technician program, was one of the speakers at the ceremony. The 31-year-old single mother turned to college as an adult, while working three jobs to support herself and her daughter, now 9 years old. She entered Middlesex Community College with a plan to become a nurse.