The Blind Boys of Alabama came to Boston and delivered their powerful version of Christmas season's songs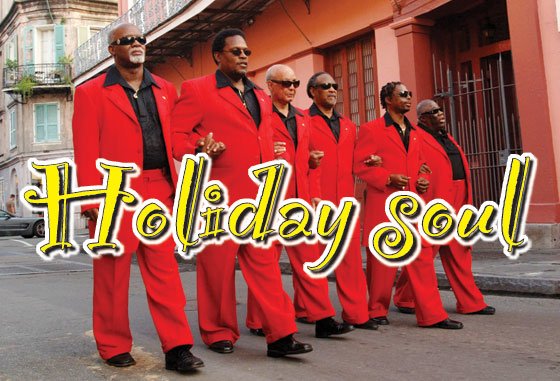 The Blind Boys of Alabama came to Boston and delivered their powerful version of Christmas season's songs
Outfitted in black suits and bright red vests, the Blind Boys of Alabama took the stage at the Berklee Performance Center on Saturday night. Presented by World Music/CRASHarts, the venerable gospel ensemble was in Boston to perform a Christmas show.
Their blazing 90-minute set, a mix of contemporary and traditional carols and spirituals, demonstrated the power of a few white-haired virtuosos to generate a mighty and massive sound.    
As synchronized as their attire, the group's distinctive gospel style is rooted in the rich harmonic tradition of the black jubilee quartet. But harmony is just one of this troupe's potent musical tools — a point of departure and return for stirringly inventive vocal improvisations.
The three primary vocalists were Bishop Billy Bowers, a hefty young man with a big baritone, and troupe veterans Jimmy Carter and Ben Moore. Lead guitarist Joey Williams and drummer Eric (Ricky) McKinnie also sang a few solos, and bassist Tracy Pierce, a top hat crowning his braids, offered vocal backup to the ensemble.
Alternating with equal authority between an electric piano and Hammond B-3 organ, the group's keyboardist, Peter Levin, deftly embroidered melodic passages around the driving give-and-take of the singers.  
While the troupe always found its way home to harmonic blends, what set both the singers and the audience on fire was the interweaving of members' individual voices against the group's rhythmic spine. Nimble, swinging backup accompanied fervent solos that rose above, dived below or drilled through the ensemble's harmonic currents. Their arrangements also made the most of the varied textures of the men's voices, from guttural chants to rasping cries and tender melodic refrains.
The group's rendition of "Silent Night" featured Moore, who moved a step behind the beat of the chorus backing him. The carol unfolded with slow, rhythmic intensity as he inflected such words as "sleep," "peace" and "heavenly" before joining his fellow singers in the carol's familiar refrain.
Bowers injected raw power into Harry Connick Jr.'s "I Pray on Christmas," and midway through the song released a long, wordless cry. Moore, Williams and McKinnie sang a moving version of "Amazing Grace" to the chords of "House of the Rising Sun." As the ensemble's deep organ of collective sound propelled Curtis Mayfield's great anthem, "People Get Ready," Williams pierced their harmony with a thrilling falsetto solo.
Carter brought humor, joy and gravitas to his role as host. He is the senior member of the troupe since its longtime leader, Clarence Fountain, retired a few years ago.  
The original members were no older than 10 in 1939 when they started singing together as students at the Alabama Institute for the Negro Deaf and Blind (now the Alabama Institute for the Deaf and Blind). After decades traveling the black gospel circuit, the group gained international fame in the mid-80s when they performed alongside Morgan Freeman in the Obie Award-winning musical "The Gospel at Colonus."