RZA talks about his latest role in "The Next Three Days," a thriller directed by Oscar-winner Paul Haggis with Russell Crowe and Liam Neeson.
12/8/2010, 5:55 a.m.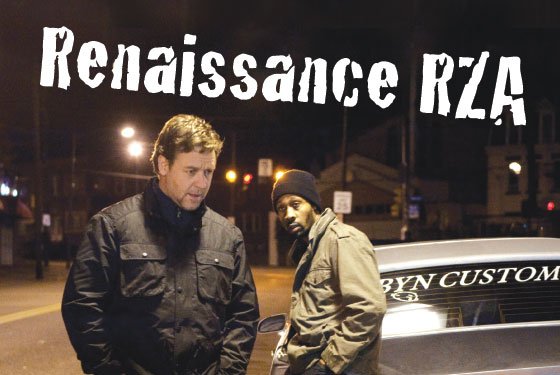 RZA talks about his latest role in "The Next Three Days," a thriller directed by Oscar-winner Paul Haggis with Russell Crowe and Liam Neeson.
While best known as the founder, producer and mastermind behind the Wu-Tang Clan, RZA has built an incredibly diverse and successful career as a musician, a composer of film scores, a producer, an actor, a businessman, a player and an advocate of chess.
The author of the best-selling "The Tao of Wu" and "The Wu-Tang Manual," RZA was born Robert Fitzgerald Diggs in Brownsville, Brooklyn on July 5, 1969 and first surfaced on the hip hop scene during the early 1990s. After brief stints as a member of the group All in Together Now and as a solo artist under the name Prince Rakeem, he formed the Wu-Tang Clan in 1992. Based in Staten Island the band went on to become one of the most successful and influential hip hop groups of all time.
Their debut LP, 1993's "Enter the Wu-Tang (36 Chambers)," driven by RZA's unique, groundbreaking beats and signature gritty production style, has become a definitive hip hop classic and is revered as one of the greatest hip hop albums ever. Meanwhile, he has released several solo albums under his own name, under that of his hedonistic alter ego, Bobby Digital, and also as Digital Bullet, Birth of a Prince, and, most recently, Digi Snax.
An avid chess player, RZA created WuChess.com, the world's first online hip hop chess community. At the website, hip hop fans can learn to play from chess masters, compete for scholarships and square-off against him and other hip hop celebrities.
RZA is a Grammy Award-winning music producer, with a distinguished body of work scoring movies for filmmakers such as Ridley Scott, Jim Jarmusch and Quentin Tarantino. His acting credits include "Due Date," "Repo Men," "Ghost Dog: The Way of the Samurai," "The Killers," "Funny People," "American Gangster," "Life is Hot in Crack Town" and "Derailed."  
What was it like to work with a trio of Academy Award-winners in Paul Haggis, Russell Crowe and Liam Neeson?
Oh, man, it was a pleasure and a great learning experience. When you're dealing with the cream of the crop, all that does is make me sharper. My having a chance to work around those gentlemen has helped me become better at what I do. I couldn't have asked for a better acting credit to add to my resume.  
What's it like to play a drug dealer?
[Laughs] It was cool, because I played a cop in the last film I did with Russell Crowe ["American Gangster"]. So, to be on the other side of the law this time was a lot of fun, and a nice challenge for me.
Some soundtracks try to manipulate the viewer's feelings by having a heavenly chorus suddenly start singing when your emotions are being played upon. How do you use music when scoring a film? To shape and frame the action? To manipulate the viewer's emotions?