Keeping it moving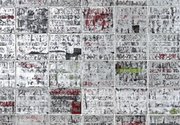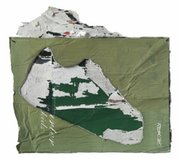 Bleached by the Los Angeles sun and processed with solvents and abrasives in his studio, worn street posters, discarded newspapers and sidewalk debris are among the raw materials that artist Mark Bradford collects and incorporates into his collaged images, which he regards as paintings.
At home with paradox, Bradford creates paintings, but seldom uses pigment. A visual artist, he also harnesses the provocative power of words — whether as titles or elements in his compositions. He adopts the timeless, formal clarity of Abstract Expressionism and Minimalism, traditions that transcend the ruckus of daily affairs, in alluring paintings that explore the chaos of urban life in America and his experience as a gay black man.
He approaches art "not as something that exists outside of the day-to-day," the lanky, 6'8" Bradford told an audience at the Institute of Contemporary Art/Boston, where he is the subject of a fascinating large-scale museum survey — his first. On view through March 13, the show then travels to major museums in Chicago, Dallas and San Francisco. Organized by the Wexner Center for the Arts, Ohio State University, the exhibition presents more than 35 of Bradford's works from 2000 to 2010 and it is accompanied by fully illustrated catalogue.  
Like an archeologist, Bradford, 49, sifts elements of urban life and in layered compositions stirs what is overlooked, concealed or forgotten.
The recipient of a 2009 MacArthur Foundation Award (known as the "genius grant"), Bradford lives and works in Los Angeles, where he earned his BFA (1995) and MFA (1997) from the California Institute of the Arts.
As a boy, Bradford helped out at his mother's hair salon in South Central Los Angeles, which is now his studio. He became familiar with the small, square-shaped endpapers used to straighten the hair of African American clients.
Cheap and readily available, these endpapers became the material of the earliest works in the show — luminous, softly toned grids. Some suggest parchment or veil-like Cubist compositions of Paul Klee.
Bradford's grids gradually expanded in size. The billboard-scale "James Brown is Dead" (2007) memorializes Brown with a monumental mural. The words in the title occupy most of the 24-foot-long image, which has the aura of an Egyptian frieze; but they are obscured by other elements, such as the picture of a keyboard or fragments of posters, that vie for the viewer's attention. While honoring the musician, the work is a meditation on how what matters to some people can be invisible to others.
Bradford evokes the public persona of RandB sensation and sex symbol Teddy Pendergrass, who died in January, in his multimedia installation, "Pinocchio Is On Fire" (2010). Its title suggests the torment of a flawed son who, like the wooden puppet in the fable, cannot please his father.
The viewer enters a long, narrow passageway covered with a black-and-white grid illuminated by a row of overhead spotlights. Speakers on both sides play a recording of Nancy Wilson singing her 1963 hit, "Tell Me the Truth." The multimedia seduction induces a desire to slow down and saunter to the soulful, syncopated ballad and indulge in a private runway stroll.