Arts
12/7/2010, 6:38 p.m.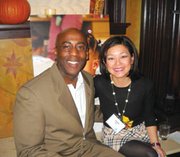 The "M" Awards presents the Battle of the Sexes: Stylist and Barber Hair Show and Competition — Marriott Copley Place Hotel
I finally attended my first hair show and competition and I wasn't sure what to expect. Boy, what an experience! I felt like I was Alice and had dropped through the rabbit hole. It was crazy and intense with all the salons competing and trying to outshine one another in the sparkling ballroom of the Marriott Copley Place Hotel.
Celebrity co-host Dana Sky partnered with Glynn Jackson in keeping the flow of the show running smoothly and there was a special appearance by actor/dancer/choreographer Darrin Henson from the TV show "Soul Food" and the movie "Stomp the Yard."
The themes and costumes ran the gamut from Princess Lolly in Candyland to a ringmaster from Britney Spears' Circus tour. Models were both dressed (and not dressed) in everything from red, black and silver bodysuits to poom-poom shorts (do people still use that description?) complemented by the most colorful hair creations ranging in hues from pink and purple to burgundy, blonde and blue.
My favorite presentation of the night was Roberta from New Expression in Washington, D.C. She strutted down the runway with her 'slip of a model' who had a mop of yellow-white blonde hair. The model slithered and twisted on the runway (I think she intended it to be sexual in nature), as Roberta furiously sliced the air and her shaggy mane with her blade, and then came the "piece de resistance" with Roberta cutting her model's hair blind-folded.
The crowd jumped to its feet as Roberta stole the show. It was actually quite impressive and when Roberta was done, Jackson, renowned stylist and "King of Hair" commented that the model went from "a shaggy doodle to a poodle." 
DJ Pleasure from WKYS-FM in New York kicked off the show and Chief Rocka Moe D. from HOT 97Boston warmed up the crowd with the smooth sounds of RandB and hip hop. For good measure, a little bit of gospel was thrown by The Greater Love Tabernacle. 
D.L. Hughley at the Wilbur Theatre
Politically-savvy comedian D.L. Hughley has been making audiences laugh around the country for 20 years.  He came to national prominence as the star of his own sitcom "The Hughleys," but it was the mega-hit "Original Kings of Comedy" that launched D.L. into superstardom.
The film, based on the 1999 tour featuring D.L., Bernie Mac, Steve Harvey and Cedric the Entertainer, garnered close to $40 million at the box office and became one of the highest selling DVDs in 2001.
During this time D.L. has really become a renaissance man. He's worked in film, television and radio.  He recently hosted his own morning show on New York's WYKS-FM and he is a regular contributor to the nationally syndicated "Tom Joyner Morning Show." A correspondent on NBC's "The Tonight Show with Jay Leno," Hughley is also a frequent guest on HBO's "Real Time with Bill Maher."
I recently had the chance to catch up with D.L. and chat for a few minutes about what he's been up to as of late.