Documentary series features Rox success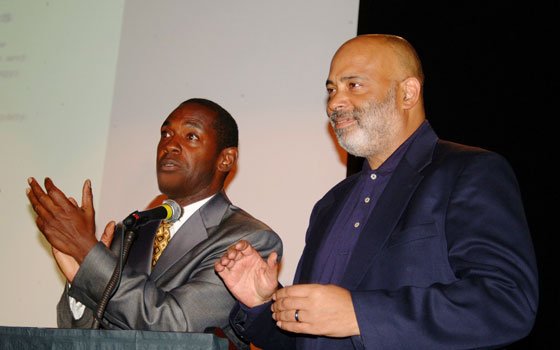 When people think of Roxbury, the last thing that comes to mind is business and organizational success or the phrase, "Roxbury is rich!"
But rich it is.  
One relevant example is The Roxbury Unseen Success Project, a series of documentaries about successful Roxburians like Beth Williams, CEO of the Roxbury Technology Corporation — a major supplier of toner to the multi-billion dollar Staples Corporation; or Ken and Lisa Guscott of Longbay Management Company — one of the leading partners in the development of the office tower at One Lincoln Street where State Street Corporation is headquartered.
The first documentary in the series premiered before a packed Hibernian Hall last month.
"The Roxbury Unseen Success Project" is a joint project of RDM Productions and the South End Technology Center that focuses on the milestones that Roxbury has made in what is considered the six primary categories used to evaluate community progress.
"If you look at Roxbury as an urban area," said producer Ron Mitchell, "it actually far exceeds most urban areas in the country in the primary categories of business, education, health, political empowerment, arts and entertainment, and parks and recreation.
"But if you listen to the general commercial messages that come out about Roxbury," Mitchell noted, "it's about crime and poverty and we know that's not what Roxbury is all about. Roxbury's footprint affects the whole world, and that's what this message is about."
Mitchell, a 25-year veteran of the broadcast television industry, says the idea for the series was partly inspired by the highly successful, Boston-based "Phantom Gourmet." The show started when its producer, David Andelman, the son of sports talk radio host Eddie Andelman, purchased on-air time for the show.
"That show gave me a business model that I could use, and so I ran out and put together a team and I created The Unseen TV, which was a commercial television show that ran in 2007. We created RDM Productions, an incorporated company and partnered with a corporate law firm to create 10 million shares of stock for the company," Mitchell concluded.
His team created one season of "The Unseen TV," totaling nine original shows that featured Theo Epstein, Heather Walker, Earl Graves Sr. and Jr., Kanye West, and Roxbury native Hassan Smith who leads a security company that has partnered with popular RandB singer John Legend.
"The premise of the The Unseen TV was to tell stories of really successful people that nobody knew," Mitchell explained. "We wanted to show our viewers that success wasn't the bling. You don't have to be a gangster; you don't have to be a rap star, or an athlete to have success. You could be a responsible person and you could have fun doing it."
Mitchell went on. "Every episode had a "bling factor" that looked at what these successful people did in their spare time," he said. "Some people like to surf. So we took an underwater camera and we went to Baja. Some people like to ski; some people like to kayak, so we put our anchorman in a kayak with a mic and we kayaked with Heather Walker who works for the Celtics."