State senate race heats up in 2nd Suffolk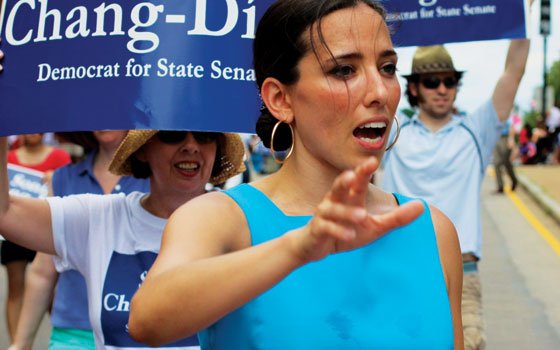 Incumbent state Sen. Sonia Chang-Diaz, shown here during the recent Puerto Rican Day Festival, is up against Hassan Williams for the 2nd Suffolk District senate seat. The primary is on Sept. 14. (Ernesto Arroyo photo)
During last week's debate between 2nd Suffolk District state Sen. Sonia Chang-Diaz and challenger Hassan Williams, about 75 people listened to the candidates' views on affordable housing, CORI reform and economic development. (Tony Irving photos)

It was five days after his first debate and Hassan Williams was still in a good mood.
For months, he has quietly knocked on doors throughout the 2nd Suffolk District and has been encouraged by what he hears.
"What I'm hearing is that leadership is just not happening in our district," Williams said. "Just because an elected official votes on a bill doesn't mean they have been instrumental or shown any leadership."
That became palpable during the first debate last week at the Twelfth Baptist Church. By most accounts, Williams made a strong showing.
"We're winning," Williams kept saying. "She's going to have to figure out how to close the gap."
The "she" is state Sen. Sonia Chang-Diaz, the current holder of the seat that Williams now wants, and, of course, she has something to say about that.
It was Chang-Diaz after all that squeaked out a stunning upset over Dianne Wilkerson, the long-time incumbent who later pled guilty to several federal campaign corruption charges.
Chang-Diaz' message at the time was virtually the same thing — the district needed a change in leadership.
"I look around and I see that there are problems that are not being looked at," Chang-Diaz told the Banner shortly before a debate in 2008. "I talk to a lot of people in the community who are concerned about these problems, and they want to see new leadership in the community."
But Chang-Diaz now has a record and for the last 18 months, she says she's been able to achieve some of her legislative goals. "It's easy to sit back and try to find something wrong," Chang-Diaz said. "But if you take the time and get involved, you will see that we have been doing the work. Look at the record."
Among those accomplishments: passage of CORI and foreclosure reform bills. "These were tremendous victories that will make a real difference in the lives of families in our community," Chang-Diaz said. "They are not panaceas but they are good first step to bringing change to the district."
But whispers continue to plague Chang-Diaz' campaign. And Williams is only too glad to raise some of them — and try to tap into Chang-Diaz' thin support in predominantly black and Latino neighborhoods.
The 2nd Suffolk District was redrawn in 1974 by court order as the state's first and only majority-minority Senate district and stretches from Beacon Hill to Mattapan and includes Chinatown, Back Bay, the Fenway, the South End, Roxbury, Dorchester and Jamaica Plain.