in the Mix
8/25/2010, 6:26 a.m.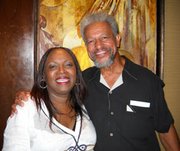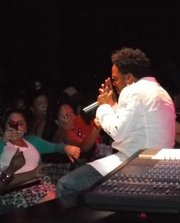 RandB chanteuse Athene Wilson at Scullers Jazz Club
Running late as usual, I arrived 15 minutes after Athene's show began and as I'm escorted to my seat I noticed we're walking closer and closer to the stage and then I end up being seated smack dab up front.
It's always a little awkward to slip into your seat right in front of the performer, especially on a sold-out show, and in such an intimate setting, but I got over it pretty quickly. (I found out later that I was sitting at Athene's table with her husband, Hajji and their pastor and his wife. Such a treat!)
Wilson's voice is absolutely flawless and her band delivered a soul-stirring set. She performed most of her songs off of her debut album — "It's About Time" — for almost two hours, plus threw in some classics like Aretha's "Until You Come Back To Me" and Bob Marley's "Is This Love".
Sax man Elan Trotman joined Athene on stage as well as Leon Beal who wrote most of the songs on her album. Rockin' to Athene and her band in the crowd were PR gal Kelley Chunn and Northeastern University's Mimi Hughes.  
Dwele at Showcase Live at Patriot Place in Foxborough
I was really excited to see Dwele again. I saw him for the first time last year at Showcase Live and he put on an awesome show. I was blown away by his music, his voice and his charisma. Plus, he's kind of cute.  Needless to say, when I heard he was coming back, I was excited to see him again and I was telling friends that it was a "must see" show.
The show got off to a promising start and I was loving the music. Two of the background singers had a couple of solos that really got the ladies stirring in their seats and then it sort of fell flat. Sadly, I don't even think Dwele performed a full set of songs. He might have sung five or six songs tops, which was really disappointing because he is so good live and has such great chemistry with the audience. He's extremely charismatic and lively on stage, but it seemed like he wanted to be elsewhere.
 On the way out, I noticed that he took the time to sign autographs and take pictures, but I think it would have been better to have that extra time spent on stage singing. Hopefully, the third time will be the charm!
Darryl's Corner Bar and Kitchen
So, I met up with my "partner-in-crime" Audrey and new friends Patrick and Gregory for the "soft opening" of Darryl Settles' (former owner of Bob the Chef's) new venture, Darryl's Corner Bar and Kitchen (DCBK).  It's in the spot where The Stork Club recently was located until a couple of months ago, but most people probably still refer to it as where Bob the Chef's used to be.
The idea behind DCBK is to be the "neighborhood hangout" for the locals, the students, young professionals and after-work crowd. It offers the familiar southern style cooking such as Buttermilk Fried Chicken Salad and Beer Battered Catfish, to the new, steak tacos, a duck confit salad and mussels.