Summer arts workshop provides rigor, rewards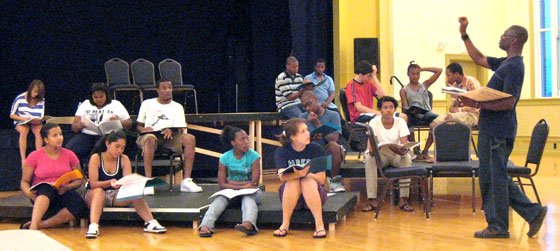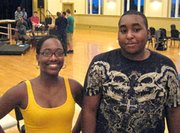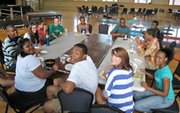 On a steamy August evening, a group of Boston area singers ages 14 to 24 rehearse in the ballroom at Hibernian Hall in Roxbury. It's 6:30 p.m., but fading sunlight still streams through the tall windows, keeping the room uncomfortably warm.
They are working on "O Freedom," a slavery-era spiritual. "No more weepin,' No more weepin' over me … " intones soloist Riley Blue, a 20-year-old from Hyde Park, before the rest of the group join in, in four-part harmony.
This is day two of Vocal Explosion, a two-week intensive summer voice and drama workshop culminating in a staged performance on Aug. 13. The program is a joint project of Opera Boston, Roxbury Center for Arts at Hibernian Hall and Mssng Lnks, a nonprofit organization lending support to teen vocalists from Boston area urban neighborhoods.
Director Sam Martinborough, Mssng Lnks founder and longtime music teacher and choral director, wastes no time savoring the final note of "O Freedom."
"Let's do that one more time," he says. "I want it to be one … long …  crescendo — starting as softly as you can sing it."
Martinborough engages his whole body to keep time. He raises his extended arms gradually as if to literally pull up the volume.
He's still getting to know the 20 young people, but he wants to impress upon them that the rehearsals, which run 4 p.m. to 9 p.m. each day, will require dedication and focus.
"I perform best with teachers who don't let me get away with anything. I hate them to my bones … and I love them with all my heart," he tells them. "I need to be that person you both love and hate."
Vocal Explosion is funded in part by The Boston Foundation's My Summer in the City initiative, aimed at keeping youths productively engaged in the afternoon and evening hours. Participants were recruited from area churches, music schools and choruses, said Rachel Adler-Golden, Opera Boston education and community engagement manager.
"We looked for kids who are into singing, regardless of whether they have had previous musical training," she said, "and who showed a willingness to work hard and take artistic risks."
Some have their sights set on music careers; others simply love singing.
Blue was recruited at Roxbury's Charles Street AME Church, where he is a soloist in the church choir. He attended the Hamilton-Garrett Music and Arts Academy, an after-school music and cultural development academy at the church. Though not currently aiming for a musical career, he said he sings all day at his job as a painter and handyman.
"God gave me a gift, and I'm going to use it," he said.
Allieya Perry, 17, attends the Boston Arts Academy and sings with the Boston Children's Chorus. Her plan, she said, is to attend culinary school and minor in music if possible.
After a dinner break, the rehearsal shifts from singing to staging.
It's last things first, as Martinborough guides them through the choreography of the final curtain call. He urges them to stay in position, come out in the correct order and bow graciously. They repeat the whole process three times.