Seth Gilliam lights up Boston Common in 'Othello'
8/11/2010, 7:26 a.m.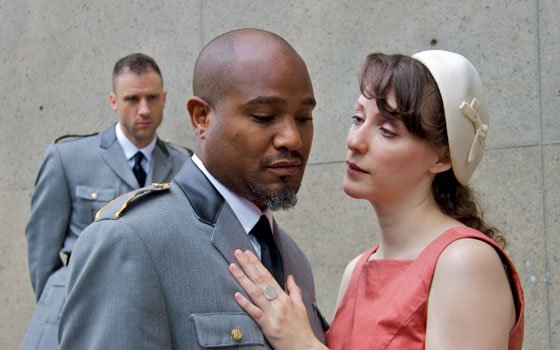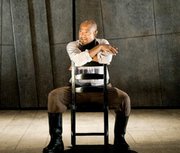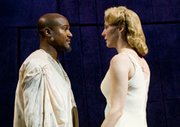 James Waterston as Iago, Seth Gilliam as Othello and Marianna Bassham as Desdemona star in the Commonwealth Shakespeare Company's production of "Othello" on the Boston Common through Aug. 15. (Photos courtesy of Steve Maler, Commonwealth Shakespeare Company)

This year, the Commonwealth Shakespeare Company's opening night performance of its 15th anniversary production, "Othello," was introduced by Gov. Deval Patrick, Mayor Thomas Menino and Red Sox owner John Henry.
This big brass endorsement of a local company whose mission is to bring live, vital and contemporary works of William Shakespeare free of charge to Boston's diverse communities was quite a statement for a governor whom Menino exclaimed, "is running for re-election on an arts platform."
One of several free presentations of Shakespeare in national parks throughout the United States, the annual foray on the Boston Common is one of the city's most anticipated events of the year, with single productions drawing audiences upwards of 100,000.
Every year people come with blankets, beach chairs, Tupperware and sandwich bags filled with treats and comforts to aid in their enjoyment of the Boston's only free professional Shakespeare Company.
And while an evening lounging by the historic Parkman Bandstand at the Boston Common is reason alone to enjoy Shakespeare, audiences might also have the opportunity of seeing their favorite film or television actor braving the cadence of the world's most famous bard. 
Seth Gilliam of HBO's "The Wire" and "Oz" fame helms the cast of Othello, the story of the Moor whose love and subsequent jealous rage toward his white lover Desdemona, is amongst the world's most famous black male roles. 
Yet, "Othello" is a play often met with controversy, particularly in its early years when the title role was portrayed by white men in black face and in more contemporary times with its eerie comparison to the O.J. Simpson case. 
Director Steve Maler has taken all of that into consideration with his casting of Gilliam.  Gilliam is not your average Othello.  "He makes this incredibly calm Othello," says Maler. "Calm, reasoned, emotionally engaged, compassionate."
In person, Gilliam is calm, with the intelligence of a Harvard professor and the wit of a seasoned comedian.  Recently, The Banner sat with Gilliam, director Steve Maler and onstage nemesis James Waterston, who plays Iago.
If these characters were living in the inner city, what would their role be in the neighborhood?
 Gilliam:  I think Othello would most likely be a retired high-up police official who is now a community leader, being undermined by Iago for some kind of political gain.   And he would probably be a career man, unmarried, single, never really had a relationship.  Meeting Desdemona would be his very first [relationship], which would come into conflict with his focus and concentration on the community.
How would Othello, as a man, feel about the violence the community is facing right now?
Gilliam: Yes, what is it, idle hands makes the devil's workshop? 
I think Othello could probably get the youth — the wayward youth who have a lot of time on their hands and who have a lot of hostility and anger from having nothing else — I think he'd probably get them into projects like rebuilding homes and taking pride in their community.  I think he would probably be the commanding kind of figure to do that, and command the kind of respect because he would be coming from a similar environment to them and would have earned his stripes.