Banner Biz QandA
8/4/2010, 8:35 a.m.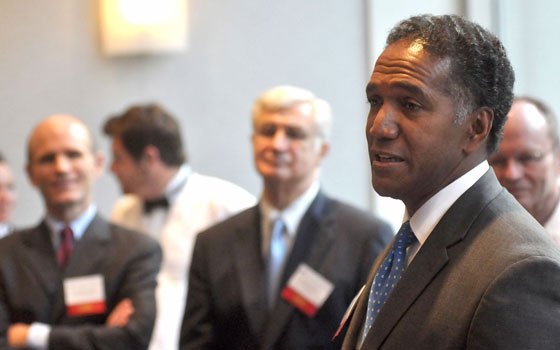 Milton Benjamin, founding president and CEO of the Initiative for a New Economy, discusses the company's efforts in providing services to MBEs.
Q: Your organization is called the Initiative for a New Economy (INE). What is the new business model you have developed?
The INE conceived a new business model that advocates building minority business enterprises (MBEs) to a larger scale and with higher levels of competence and capability.  The business opportunity depends upon two things: the MBE winning a contract with our help and the steps taken by INE and corporations to provide mentoring to MBE firms.  INE helps corporations, governments and large nonprofit groups create more opportunities within their organizations and assists MBEs in becoming more competitive. The result is larger and more profitable MBEs whose success will transform and invigorate minority communities.
Q: What were the conclusions of the economic study sponsored by the Boston Collaborative in 2003?
The study found that MBEs remain underrepresented in the Massachusetts economy and have not yet reached entrepreneurial parity.  They do not reflect the growing size and importance of minority communities in the state. While governments and corporations understand the importance of MBEs to the economic vitality of the region, MBEs need more guidance on ways to increase access to opportunities for growth and sustainability. MBEs reported that the climate for their development had not improved and may have actually deteriorated.
Q: Why is the development of supplier diversity important?
One of the most important aspects of any business is to develop a committed customer base. Major firms prefer to focus on their core operation and subcontract support operations. An effort to persuade companies to subscribe to supplier diversity as a criterion for selecting suppliers creates enormous business opportunities for MBEs.
Q: What are the qualifications for a company to be selected by INE?
INE targets and recruits MBEs capable of consistently delivering quality products and services to other businesses.  The MBE companies must be at least three years old, have revenues of at least $1 million per year and must have some history of profitability.  It is not required to be profitable when the MBEs' qualifications are being considered.
Q: What services do you provide to companies that you enroll?
INE staff and our Management Assistance Team, made up of professionals with expertise in a variety of business disciplines, provide one-on-one consulting in areas such as finance, information technology, marketing, business strategy, operations and acquisitions. We also conduct quarterly CEO Roundtables where our businesses have an opportunity to hear speakers and network in order to do business with each other and to solve problems. INE companies also have access to free legal advice provided by one of Boston's leading law firms.  INE enrolls purchasers who understand the value of supplier diversity. Thereafter, INE can facilitate contract relationships and monitor the progress of those relationships.
Q: How does the mentoring program work?
INE identifies areas where the MBE company could use support. A plan is then developed to provide new business for those areas that have been identified. The INE staff monitors the company's progress and continues to provide direct support, or brings in members of the Management Assistance Team as needed. INE also serves as a mentor to purchasers to help them expand their companies' supplier diversity programs.