It's a bug's life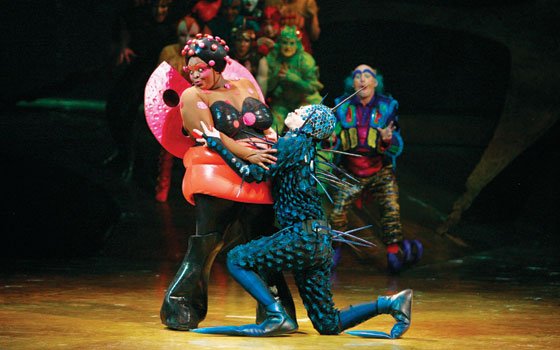 Shakespearean-trained performer makes Cirque du Soleil debut as Ladybug in "OVO"
Imagine a classically trained actress playing a human-size ladybug in a full-scale insect world.
That is exactly what 30-something African American performer Michelle Matlock is doing at least through December in the tour of Cirque du Soleil's latest live production "OVO."
A graduate of New York's National Shakespeare Conservatory, the St. Louis-born and Seattle-raised performer actually finds that her education and the shows that it has inspired have served her very well as she portrays the genial heroine Ladybug in her Cirque debut.
Matlock said she loves playing good-natured Ladybug and called her Cirque du Soleil debut "a great gig." While "OVO" creates human-size ants, spiders, fleas, butterflies and other such creatures in a big top spanning insect universe, Ladybug is clearly one of the most scene-stealing and appealing characters in the show. Not only does Ladybug spread good cheer but also she shares a romance with a clowning but caring blue bug named Foreigner that becomes as fully developed a plotline as "OVO" has.
Her satisfaction with the role is total. "I enjoy the optimism she has and her outlook," she explained. "She's one of the most positive characters I've ever played."
Of Cirque du Soleil itself, she offered, "I was interested in a company that created a vision outside the box" — precisely what she found in the now legendary Montreal-based company. "It's nice to do that every night," she added.
Ladybug wriggles happily one moment and flirts with Foreigner at another. She also strokes the enigmatic large title egg. She is a character capable of great love as well as good will.
"It's significant for me to be playing a romantic lead even in a funny work like this," she maintained. "It's difficult for black women in the [showbiz] industry."
In fact, one of her role models as a performer has been critically acclaimed actress Cicely Tyson who has not had the opportunity to play as wide-ranging repertoire of roles as her white counterparts.
At the same time, Matlock said acclaimed filmmaker Spike Lee, one-woman show expert Whoopi Goldberg and comedienne Carol Burnett  have also influenced her.
Beyond the pleasures of  Ladybug, Matlock has discovered that she has a real facility for playing a variety of characters — a talent that she began to develop at the Conservatory. "It taught us to write our own show," she explained.
The most satisfying result of her hands-on work at school became a one-woman show called "The Mammy Project."
Identifying "Project" as "the history behind Aunt Jemima," Matlock described the focus of the show as "the stereotype of Mammy" and the impact it has had on contemporary American culture. Playing a total of 17 roles in this "history-based piece," she portrays such real people as Hattie McDaniel in "Gone With the Wind" and Nancy Green, "the first woman hired to play Aunt Jemima."
Yet the soul of her show — set at about the time of the 1893 Chicago World's Fair — are such independent figures as Renaissance man and statesman Frederick Douglass and reformer Ida B. Wells. "I focus on the activists that were there at that time," she noted.