A family business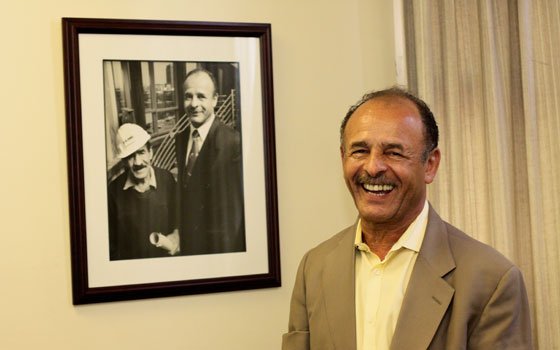 The John B. Cruz Construction Co. started 60 years ago and is now one of the New England region's largest minority-owned construction and development companies
As life-changing decisions go, this one seemed to be an easy one. Flush with cash earned during three summers of construction work — and the keys to his own Mercury — then high school senior John Cruz III looked at the numbers.
John D. O'Bryant, Cruz' guidance counselor at Boston Technical High school, had checked into the average annual salaries at the time of some of Cruz' choices for his future. Cruz was nearly crest-fallen. His dream of becoming an actor or a big-time writer faded fairly quickly.
"I'll never forget that," Cruz says. What O'Bryant did suggest was that Cruz work for his father and "try to grow the business."
And Cruz has done just that. Over the last 40 years he managed to transform his father's small carpentry business into one of the New England region's largest minority-owned general contracting and development companies. Its management wing alone handles about 1,500 units of affordable housing throughout the city.
Best known for his role in the development of the skyscraper formerly known as One Lincoln in downtown Boston, the Reggie Lewis Track and Athletic Center and the new Boston police station, Cruz has succeeded beyond his father's imagination — and has become a community institution.
Cruz said he didn't always have his father's full-fledged support. "My father was quite content with his carpentry business," Cruz said. "But I wanted to go into development. And he never really did. For him, it was always too expensive and too much of a hassle. But I would still try to get him to go along by starting the conversation with 'I know it's your money, but … ' "
It's been a tough battle. The construction industry has always been messy, especially in Boston during the 1970s when Cruz started work full-time after attending the Wentworth Institute.   
With little opportunities in the private construction market, minority developers relied on public projects — and government set-asides — to get a start and, all too often, maintain a fair share in construction dollars. But as construction work dried up in the private market, more and more white-owned companies were forced to bid on government projects, leaving under-capitalized minority firms unable to compete.
 More often than not, government contracting became subject to state and federal legal challenges — and court rulings that limited race-based contracting policies.
In fact, opposition was so fierce here in Boston that then City Councilor President James Kelly, a staunch critic of minority set-aside programs, once said, "I don't think a contract should be awarded to a minority contractor unless there is proof that that contractor is a victim of discrimination. No one is trying to help a small white-owned firm."
Like many others, Cruz strongly disagreed and argued that those programs were needed to reverse decades of discrimination within the construction industry. "If it weren't for some of these minority-preference programs," Cruz once explained, "a lot of minorities wouldn't be in business."