Cambridge dentist on a mission to reduce tooth decay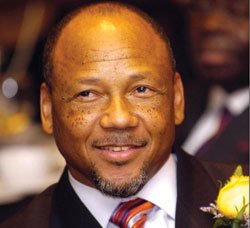 Brian Swann was 12 years old when he visited a dentist's office for the first time. He left there with 13 cavities.
That experience could have led to a lifelong fear of future dental appointments. But Swann was different. He learned about the importance of oral health and embraced dentistry so much that he is now a dentist.
Swann readily admits that he had help along the way. His mother, for instance, worked at the time as a dental assistant and would occasionally bring him to the office, where he would marvel at the dental instruments and other gadgetry.
As a child, he likened the work of a dentist to that of a combination of a technician, scientist and artist.
When the time came for him to choose a career, Swann's early impressions of his dentist being a well-respected figure in the community didn't hurt.
Dr. Swann has practiced dentistry for the last 35 years and now serves as the chief of dental services at Cambridge Health Alliance. He is also a staff dentist at the Mattapan Community Health Center.
He received his bachelor's degree in psychology in 1970 from Pacific University in Forest Grove, Ore. and went on to get his doctorate in dental surgery at the University of California, San Francisco School of Dentistry in 1975.
Being exposed to community work all his life, he learned early on the importance of helping people. He also recognized that being a successful health care provider starts in the waiting room.
 It is all about the environment and ambience created for the patients, he explains. When a patient lies down in the chair, Swann says that he takes time to listen and, equally important, explain why he's doing what he's doing.
"You have to build people's confidence," Swann said, "and help them to understand the difference between pressure and pain."
To avoid pain and common dental problems, Swann recommends that people have regular dental checkups and get in as soon as possible when experiencing pain. The biggest problem, Swann says, is tooth decay — especially in children.
As far as he is concerned, tooth decay is the No. 1 disease in the world. He advises young and old to take care of their teeth because they are a valuable part of the body.
Swann says that parents can bring children as young as 6 months of age to the dental office to learn about what they should and should not feed them.
 A child's first cleaning should happen at 2 or 3 years old. Because some children don't make it to the dentist at that age, Swann also said, "We're training the pediatric physicians to look at children's teeth."
A few general rules of thumb to maintain healthy teeth include:
— Dilute juice with water to lessen  the sugar intake.
— Don't leave a bottle in a baby's mouth.
— Brush and floss every night before bed.
— Avoid chewing gum.
— Avoid eating foods with lots of sugar.
Swann recognizes that there are people who don't schedule regular dental appointments due to the cost. "Don't let lack of money be the barrier," he says.  "You can afford it if you come in early."