Arts
4/16/2010, 9:16 a.m.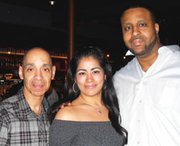 Get Konnected! at the W Boston
It was a packed house for Colette Phillips Communications, Inc.'s second anniversary celebration honoring The Next Generation: Massachusetts Firsts at her monthly networking event. Being honored on this night for their remarkable firsts were: Boston City Councilors Ayanna Pressley and Felix G. Arroyo Jr.; TOUCH 106.1 FM owner Charles Clemons; Susan Quiñones, the first Latina chief of staff, Massachusetts Department of Transportation; Cambridge City Councilor Leland Cheung; State Senator Sonia Chang-Diaz; Newton Mayor Setti Warren; Shirley Leung from the Boston Globe; and Lisa A. Wong, the first Asian American to be elected mayor of Fitchburg.
Another first on this night was the official launch of the Spring/Summer 2010 issue of the urban lifestyle magazine EXHALE, which promises to be a "go-to" resource for women today. Showing their support on this were EXHALE's "cover girl" and New England Cable News anchor/reporter Latoyia Edwards and her husband, Jesse Edwards; Michele Davis from Women in Film and Video/New England; the always dynamic and fabulous Renee Greene; Tito Jackson; Ms. Abim Thomas; and Discover Roxbury's Derek Lumpkins.
Rick Ross at Showcase Live
So, I headed south for a little hip-hop at Showcase Live at Patriot Place in Foxboro. The joint was packed to see "The Boss" himself, Rick Ross. Kicking off the night on stage was JAM'N's Geespin along with several local hip-hop artists including Masspike Miles, who used to perform with the Boston group Perfect Gentlemen.  It was becoming a long night, and I found out from one of my peeps that Rick Ross wouldn't hit the stage until midnight.  By now, I should know better than to expect that a hip-hop show would start on time, so, unfortunately, this party girl never did see "The Boss" perform "Magnificent," one of my favorite tracks.
But before scooting out the door, I spied the New England Patriots' Darius Butler in the packed room and caught up with Melissa from the "Ramiro and Pebbles Morning Show."
Artist Live Boston at Ryles Jazz Club
I had such a great time at Artist Live Boston at Ryles Jazz Club in Cambridge. It was my first time going to Ryles and I just couldn't believe I hadn't been there before. It's a beautiful and comfortable venue that offers great food and a really good time. The sound is incredible.  
I was impressed not only by the house band Elevation Theory, but also by the performers themselves. The show began with Cuban American vocalist Jackie Sanchez, who opened with Erykah Badu's "On and On" and belted out songs in her style of "an urban neo-soul fusion" along with Mario Evon, who added his Kingston, Jamaican rhythm to Maxwell's "Ascension (Don't Ever Wonder)," to D.C. natives Katrina Bello and Orlando Dixon incorporating a blend of R and B, jazz and go-go beats to their songs.
Artist Live Boston is an artists' launchpad in the New England region and is similar to RnB Live Hollywood! in Los Angeles that was created by Cantabridgian Bob Francis of Brand Engine Media. Cambridge native and R and B songstress Phaedra will host the weekly event.  
Artist Live Boston features great music and talent, good food and a cool vibe!
Upcoming Events…
This Saturday, April 17th, the Concerned Black Men of Massachusetts host one of the region's most inspirational events of the year, the 20th Anniversary Unity  Breakfast Celebration at the Cambridge Center Marriott in Kendall Square. The event begins at 9 a.m. and will feature Emmy Award-winning journalist Byron Pitts with the proceeds benefiting the Paul Robeson Institute.
On Saturday, April 24, 2010, the fifth annual New England Urban Music Awards event will include a special all-star tribute to New Kids on the Block at the historic Strand Theatre.
Songstress Corinne Bailey Rae is a must-see at the House of Blues on Friday, April 30.
Queen of comedy Sommore returns to Boston with one show at the Wilbur Theatre on Saturday, May 1.
If you would like me to cover or write about your event, email me at inthemixwithcolette@gmail.com!