Moving on up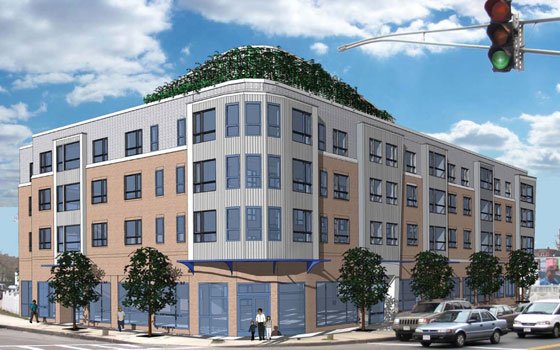 Long overdue, Jackson Square redevelopment underway in Jamaica Plain


This is a rendering of the planned exterior for the completed 270 Centre St., which is on the block between Lamartine and Wise Streets. (Photo courtesy of the Jamaica Plain Neighborhood Development Corporation)
The planned Jackson Commons, with the existing Webb Building at right. (Photo courtesy of Urban Edge)

The Webb Building as it appears today
The construction proceeding at 270 Centre St., just across the street from the Bromley-Heath housing development. (Jeremy C. Fox photos)
For the last four decades, acres of land in Jackson Square have sat empty, taken by eminent domain and cleared as part of the state's plan to run an extension of Interstate 95 into downtown Boston.
When community opposition led then-Gov. Francis W. Sargent to cancel the extension in 1972, it wasn't long before developers, community leaders and elected officials began talking about what to do with that land.
And that was part of the problem: a lot of talk, but little action.
Now, thanks to a combination of federal stimulus funds, private investment and state and city support, some long-planned projects are finally underway and others will begin in the near future.
The redevelopment is expected to bring new businesses, new jobs and hundreds of new residents to Jackson Square, at the border of Jamaica Plain and Roxbury, changing the fabric of the community.
The Jamaica Plain Neighborhood Development Corporation (JPNDC) started in the grassroots opposition to the I-95 extension and has long been involved in planning the area's revitalization.
According to JPNDC Executive Director Richard Thal, reclaiming the land for use by the community is overdue.
"People have been waiting for a long time to see something happen," Thal said. "It's kind of a hole in the heart of a neighborhood."
The plans include the redevelopment of nearly 11 acres that will incorporate as many as 14 to 15 separate projects at a total cost of up to $250 million, according to Mossik Hacobian, president of the nonprofit developer Urban Edge.
That group has partnered with the JPNDC, for-profit developer Mitchell Properties and the Hyde Square Task Force (HSTF), a community empowerment group, to form Jackson Square Partners (JSP), the consortium behind the redevelopment.
Hacobian says the group is fortunate to be able to begin construction in this economic climate. "I think the key thing," Hacobian said, "is that while a lot of development is stalled in the region and in the country because of the economic environment … we're pleased that Jackson Square is moving forward."
Much of the work will be done within a stone's throw of the Bromley-Heath housing development, and residents there have been involved in the planning process from the earliest stages. David Worrell, deputy director of the Bromley-Heath Tenant Management Corporation (TMC), represents the development on the Jackson Square Citizens' Advisory Committee.