A great show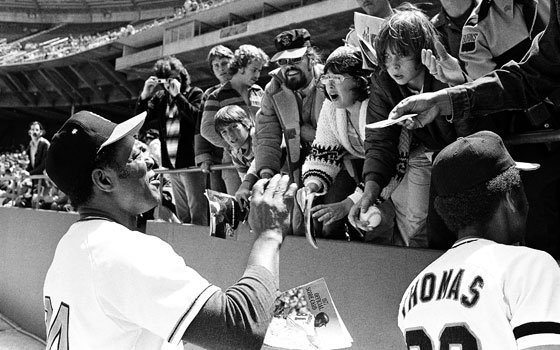 Willie Mays was talented, but what made him one of the greatest was his baseball IQ
Baseball may no longer be considered America's national pastime, but it has given the country more heroes (and villains) than the other major team sports combined.
It is a sport rife with anecdotes, legends and numerical trivia committed to memory. Observers differ as to who was or is the game's greatest player, but none deny that the athlete who thrilled the most fans over the longest period was Willie Mays.
Millions of fans of all ethnicities claimed number 24 as their favorite player. Whether with his bat, glove, arm, mind or baserunning, Mays exhibited an excitement and intellect that often defied belief. In his authorized biography "Willie Mays: The Life, The Legend," former  New York Times and Wall Street Journal reporter James Hirsch (author of the bestseller "Hurricane: The Miraculous Journey of Rubin Carter") has delivered a timely, measured study of a national idol.
Born near Birmingham, Ala. to a 19-year-old mill worker father nicknamed "Kittycat" (for his quickness on the ballfield) and 16-year-old high school basketball star named Annie Satterwhite, Mays was raised by his mother's younger sisters Sarah and Ernestine.
The girl aunts were 13 and 9 years old when they took him in. Though his father contributed money and athletic encouragement when possible, Aunt Sarah became the most important figure in young Willie's life. While Annie Satterwhite never married "Cat" Mays, she did marry another man and had a total of 10 children.
"Cat" Mays taught Willie to accentuate the positive, respond to Jim Crow with work rather than words, and avoid social vices. Because of his athletic talent, schoolteachers and extended family conspired to protect Mays, a disinterested student, from the chores and academic obligations that busied other boys.
As a teenager, Mays was a (colored) state championship quarterback in football, his county's leading scorer in basketball, and the youngest baseball player on the TCI wire mill team, the semi-pro Chattanooga Choo Choos, and the Negro Leagues' Birmingham Black Barons. On the mill squad, his 36-year-old father was a teammate.
In the fading Negro Leagues, Mays absorbed lessons on baseball strategy, accommodation to racism — and fashion. In 1950, three years after Jackie Robinson broke the major leagues' color barrier, Mays signed with the New York Giants. He struggled early on as a hitter, but dazzled in the field, his throwing arm legendary, and no fair ball seemingly out of his reach.
Manager Leo Durocher emerged as a father figure, instilling confidence in his young centerfielder, and shielding him from the New York press. Mays arrived at an ideal place and time — the baseball Giants were rivals with Brooklyn's Dodgers and the Bronx's dynastic Yankees — and television was bringing live baseball into American homes.
Not everyone was excited. When Birmingham citizens gathered for a 1951 homecoming parade to hail the local celebrity, police Commissioner Eugene "Bull" Connor canceled the festivities rather than honor a colored native.
Mays became a leading cultural figure of 1950s America, his boyish enthusiasm contagious to teammates and unthreatening to sportswriters. He lived alone in Harlem, chaperoned and counseled by former Harlem Rens basketball star and New York Boxing Commissioner Frank Forbes. In an era when even star athletes were more accessible, he delighted neighboring boys by participating in their stickball games.