Obesity:
4/6/2010, 8:55 p.m.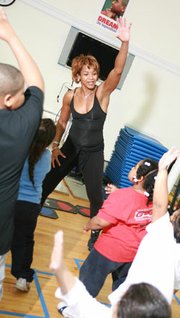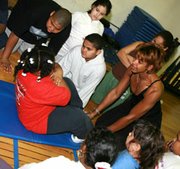 Obesity rates in America have tripled in the past 30 years.  One in three children in America is overweight or obese. A local fitness program for kids wants to change that.
Cruthird leads her young students in stretching exercises during a recent workout. As the founder of Body By Brandy 4 Kidz, Cruthird is making a special effort to get Boston-area children to understand "wellness," a concept that she defines as a combination of mental fitness, proper nutrition, rest and relaxation. (Ted Lewis photo)

 Brandy Cruthird (right) holds a young girl's feet as she performs a sit-up as a group of youngsters look on during a recent workout at Body By Brandy 4 Kidz, a Roxbury gym that Cruthird built exclusively for young exercisers. (Ted Lewis photo)
Health care costs of obesity-related diseases amount to $147 billion per year.
These numbers are unacceptable to Brandy Cruthird, founder and executive director of Body By Brandy 4 Kidz.  
Cruthird founded Body By Brandy 4 Kidz in 2006 to invest in the health of Boston's children of low-income families and give them a safe and welcoming place to work out and learn about healthy lifestyle habits. After being inspired by first lady Michelle Obama's nationwide campaign, "Let's Move," to solve the problem of childhood obesity, Cruthird wanted to do something more for her community and children who attend Boston Public Schools.
Body By Brandy 4 Kidz and Boston Public Schools have joined forces to combat childhood obesity. They are a $250,000 April finalist in Pepsi's Refreshing Idea contest for the innovative idea of a "Get Fit Pass."
"We're trying to be on the preventive side and get kids up and moving," Cruthird said.
The "Get Fit Pass" aims to provide a before- and after-school workout program for Boston's public high school students. School nurses will be able to refer overweight students to Body By Brandy 4 Kidz, where they will have access to personal training, small group exercise classes and nutritional counseling for up to a year, all free of charge.
Each school nurse will be able to refer potentially up to 50 students per quarter during the school year. School nurses will also receive monthly reports on the students' attendance and quarterly reports on Body Mass Index (BMI), weight and personal test results.
Locally, 35 percent of children under the age of six are overweight or obese, which is 15 percent more than the national average, and type 2 diabetes has doubled among high school students, according to the Centers for Disease Control and Prevention.