Prelim shows racial vote splits, increasing turnout
Yawu Miller | 9/30/2009, 5:48 a.m.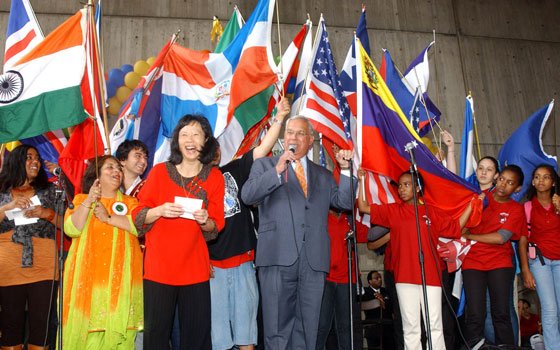 Faced with two hotly contested citywide races, Boston voters cleaved largely along race lines in last Tuesday's preliminary election.
While racially divided voting patterns are not new in Boston, the trend of increasing turnout in the city's black, Latino and Asian communities continued last week, with two blacks and two Latinos advancing onto the November ballot.
In the race for mayor, incumbent Mayor Thomas M. Menino won handily with 50.5 percent of the vote, according to unofficial results released by the city's Elections Department. At-large city councilors Michael F. Flaherty and Sam Yoon received 24 percent and 21 percent, respectively. As the second-leading vote-getter, Flaherty will move on to challenge Menino in November.
Flaherty did well in the city's predominantly white ethnic precincts, while Menino did better among black voters. The 64 percent of the vote that the mayor received in Roxbury outmatched the 61 percent that Flaherty received in South Boston.
Yoon polled well in white liberal neighborhoods, but fell short in his bid to unseat Menino.
He'll still be a part of the equation, however. In a press conference held Tuesday morning at City Hall Plaza, Yoon and Flaherty appeared to announce that they would campaign together in the weeks prior to the Nov. 3 election. If he wins, Flaherty has said he will appoint Yoon as his deputy mayor, with responsibilities including oversight of a computerized review of city services and the dismantling of the Boston Redevelopment Authority, a controversial issue throughout the mayoral campaign.
In the at-large race, ticket-topping incumbents John R. Connolly, who garnered 35,115 votes, and Stephen J. Murphy, who received 30,311, won big in the city's predominantly Irish Catholic neighborhoods. The sitting at-large councilors led the balloting in South Boston, the white Dorchester enclaves of Savin Hill, Neponset and Cedar Grove, West Roxbury, Charlestown and South Boston.
Meanwhile, challengers Felix Arroyo, Tito Jackson and Ayanna Pressley received the most votes in Roxbury, Dorchester and the predominantly black and Latino parts of the South End, Jamaica Plain and Hyde Park.
Arroyo, who placed third behind Connolly and Murphy with 25,821 votes, won more wards — 4, 8, 9, 10, 11, 14, 15, 17 and 19 — than any other candidate, winning every predominantly black and/or Latino ward in the city except Roxbury's Ward 12, where he finished second behind Jackson.
Arroyo also won the precincts in Chinatown.
Pressley did not win a single ward but finished in the middle of the pack in just about every ward in the city, placing higher in the black, Latino and liberal white precincts.
Her 16,846 votes put her behind Arroyo in the fourth slot, leaving her well-positioned to gain a seat on the City Council in the November final.
Jackson, making his first run for elected office, finished as the sixth of eight candidates who will appear on the November ballot, earning 12,520 votes — just 112 fewer than fifth-place finisher Andrew Kenneally.
Behind Jackson were former Nantucket selectman Doug Bennett with 10,519 votes and Tomas Gonzalez, a former Latino community liaison for Menino, who drew 10,108 votes.