In ICA exhibit, Ortega argues for closer look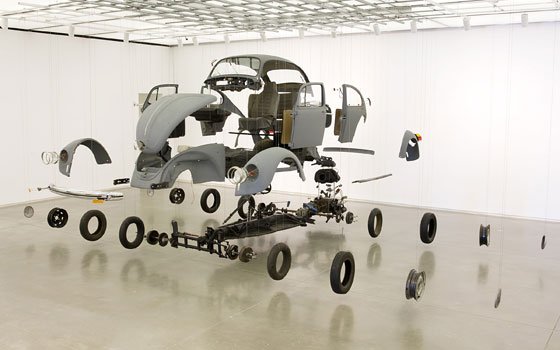 Mexican artist Damián Ortega's "Tortillas' Construction Module" (1998) might serve as his manifesto. An interlocking, vertical stack of baked tortillas, each notched on four sides, it can be reassembled in a variety of ways. Like the exhibition as a whole that is on view at the Institute of Contemporary Art, Boston, until Jan. 17, 2010, it explores objects on their way to becoming something else.
A political cartoonist with sculpture, Ortega probes how things work and connect — as well as the workings of physical and social structures that produce them. Often disarmingly simple and playful, his works have larger implications, often hinted at by their titles.
Organized by Ortega with Tate Modern curator Jessica Morgan, who also collaborated with him on the exhibition catalog, the exhibition "Damián Ortega: Do It Yourself" is the first career survey of Ortega. Its 19 works include sculpture, photography and video created over the past decade.
The works examine the parts and whole of phenomena large and small, from a dissection of a tennis ball to expose its writhing core of rubber strips, on view as a video, to an installation that laments the futility of vast public housing projects.
Ortega has wavy black hair and a light mustache, and speaks in a modest and thoughtful manner. When asked what he learned by bringing a decade's worth of works together for the first time, Ortega, 42, replied, "When my brother and I were very young, we cut open a tennis ball to discover the monster inside. Years later, I continue with that same idea of cutting open and deconstructing something to see how it works."
Near the tortilla tower, Ortega displays an ear of corn, another Mexican staple. Each of its kernels is numbered as if for scientific analysis.
Scrutiny of the everyday is very much the business of these works.
The mammoth work that commands the cavernous gallery is "Cosmic Thing" (2002), Ortega's deconstruction of a Volkswagen Beetle. Every one of its parts exuberantly protrudes from the car's skeletal frame, which is suspended from the gallery ceiling. When his own Beetle ran its last mile, Ortega gave it a ritual burial near the Volkswagen plant in Mexico. The sculpture pays homage to the low-cost vehicle that put his country on the road as well as the do-it-yourself culture of car repair spawned by its ubiquitous, swappable parts.
Likewise, many works on view use materials that can be readily reassembled for other uses. A group of "Autoconstructions" that Ortega concocted in his apartment binds chairs into bridges and other structures that have nothing to do with their function as furniture.
Ortega has the satiric eye of the political cartoonist he was earlier in his career and a humanist's respect for the power of individuals to critique their world. He is heir to the conceptual artist's preference for ideas over representation. He also inherits the early 20th century Dadaists' iconoclastic use of junk in objects of art, and often expresses his own vision with the most modest of means.