At-large slate vies for votes in South End before primary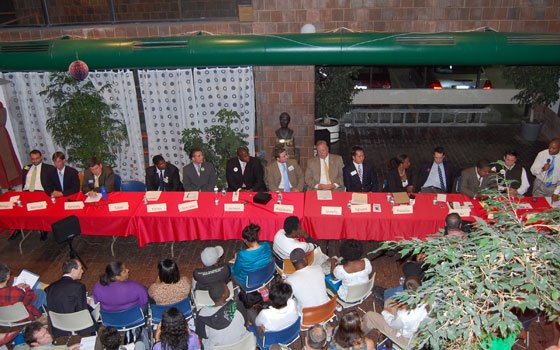 In one of their last public debates, candidates for at-large City Council seats tried to differentiate themselves from their 14 rivals, answering questions on schools, CORI reform and city revenues at a forum held last week at the Harriet Tubman House on Columbus Avenue.
It took four long tables pushed together to seat the large group of at-large hopefuls before an audience of at least 150 people who mostly applauded politely, occasionally cheered and generally appeared intent on learning something of substance about the candidates.
The forum was moderated by Sue O'Connell, co-publisher and acting editor-in-chief of Bay Windows and the South End News. O'Connell kept a firm watch on the timer, allowing candidates just one minute to respond to questions prepared by forum organizers.
Several candidates arrived late or left early because of other commitments. Ego Ezedi, running while on leave from his job as executive director of the Roxbury YMCA, briefly worked the crowd at the "meet and greet" portion of the event, but left before the forum began. Robert Fortes, a strategic planning executive with the MBTA, and incumbent at-large councilor John Connolly were present for only for a few questions.
Candidates were asked what distinguished them from the pack.
"I happen to be the only woman running," said Ayanna Pressley, former aide to Sen. John F. Kerry, D-Mass.
"But that's not why you should vote for me — I happen to be the right woman," she added, citing her 16 years of experience in government and her ability to collaborate.
Dorchester accountant Hiep Nguyen spoke of arriving from Vietnam with his parents and siblings, 12 people in all.
"We came with nothing but our empty hands," he said. "Twenty years later, most of us are property owners and we all went to college."
Nguyen attributed his family's success to hard work, family values and the opportunities provided by the city of Boston.
"I benefited greatly from the city, and I want to give back," he said.
Jean-Claude Sanon, a radio host, teacher and Haitian American community activist, said that as an immigrant himself, he "understands the needs of those who are really in need."
Felix G. Arroyo, the son of former at-large councilor Felix G. Arroyo and an ex-staffer for City Councilor Chuck Turner, cited his experience as a community and labor organizer, while Fortes trumpeted his 15 years of government experience.
Tito Jackson said he is the only candidate who has actually created jobs through his work as industry director for information technology in the state's Executive Office of Housing and Economic Development under the Patrick administration.
Bill Trabucco, an emergency medical technician from Dorchester, was also in attendance at the forum. Tomas González, former Latino community liaison for Mayor Thomas M. Menino, arrived late and missed the first question.
The other incumbent at-large councilor running for re-election, Stephen Murphy, drew laughs when he joked about his senior status in the candidate group.
"I used to go around saying, 'Give a young guy a chance,'" he said. "'But now I say, 'There's no substitute for experience.'"