Local initiatives educate Latinos about diabetes
9/16/2009, 4:47 a.m.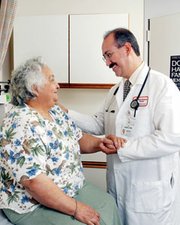 Juan Humberto Perez, a chef for the Boston Red Sox, has struggled with type 2 diabetes for seven years. Perez has learned how to treat his disease with the help of  the Joslin Latino Diabetes Initiative. (Margarita Persico photo)
Juan Humberto Perez has been a chef for nearly 20 years. He learned the culinary arts from Danny Wisel, a famed Boston executive chef and graduate of France's prestigious Le Cordon Bleu. Since 1999, Perez has plied his trade as a chef for the Boston Red Sox.
But until recently, oddly enough, he had no idea how to cook for himself.
It was no mystery. A diabetic since 2002, he had little idea of how to treat his disease on a daily basis.
"What can I eat?" was his common inquiry, said Perez, 59, a slim, 5-foot-9-inch, cinnamon-skinned Latino.
If cooking and eating properly is difficult for a professional chef like Perez, imagine what the nearly 400,000 people in Massachusetts with type 2 diabetes must go through.
Type 2 diabetes is a condition in which the body either does not produce enough of the hormone insulin, which is needed to convert sugar into energy, or cannot properly use the insulin that it does produce.
To try to help the many Massachusetts residents living with this disease, several health institutions are launching new programs aimed at boosting diabetic patients' health by teaching them how to take care of themselves. Part of that includes incorporating better health habits, such as cooking, exercising and managing their weight, into their daily lives.
"Preventing diabetes from getting worse is beyond taking the proper medication," said Dr. Enrique Caballero, director of the Latino Diabetes Initiative at the Joslin Diabetes Center, who is Perez's physician. "People with diabetes must incorporate a healthy lifestyle as part of their daily routine."
"[Treating diabetes] really takes a lot of time and effort and motivation," added Dr. Alexander Green, associate director of the Disparities Solutions Center at Massachusetts General Hospital (MGH) in Boston. "A coaching program along with nurse education can be an effective approach."
In nearby Chelsea, MGH's Chelsea HealthCare Center has incorporated a culturally appropriate and "multidiscipline team approach" to dealing with diabetes.
The center's staff reaches out to the local Latino at-risk population, according to Barbara B. Chase, nurse practitioner and coordinator of the center's Diabetes Management Program. They provide health care coaching, mental health services and diabetes self-management education (DSME) programs, as well as ongoing support groups offered in both English and Spanish.