In The News
9/15/2009, 6:52 a.m.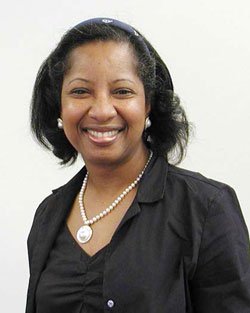 Marie-Louise Jean-Baptiste
Marie-Louise Jean-Baptiste, M.D., recently received a 2009 Dean's Community Service Achievement Award from Harvard Medical School for her work with the Cambridge Medical Care Foundation.
Jean-Baptiste is a physician at Cambridge Health Alliance (CHA), a Harvard Medical School teaching affiliate that includes three hospital campuses, a network of primary care and specialty practices, the Cambridge Public Health Department and the Network Health plan.
Established in 1999, the Dean's Community Service Achievement Award recognizes individuals who have made outstanding efforts to serve the local, national and international communities.
Jean-Baptiste has been a fixture over the years at health centers and clinics throughout Cambridge. She now practices internal medicine at the Windsor Street Health Center, working to improve health care access for immigrant populations. In response to the health needs of the local Haitian immigrant community, she gained special expertise in tuberculosis and HIV care. She also offers group visits for patients with diabetes and trains "volunteer health advisors" to promote health in their communities.
As the new medical director of CHA's HealthCare for the Homeless program, Jean-Baptiste's role will be to extend her advocacy efforts to promote access for local homeless men, women and children. HealthCare for the Homeless employs a multidisciplinary team of physicians, nurse practitioners, nurses and social workers to provide primary care to homeless people in shelters, soup kitchens, drop-in centers and the streets of Cambridge and Somerville.
In addition to her clinical work, Jean-Baptiste is also an assistant professor of medicine at Harvard Medical School, and serves as program director for minority affairs for CHA's internal residency training program, which aims to foster a diverse and culturally competent environment for medical practice and training. Jean-Baptiste speaks Haitian Creole and French in addition to English.