Conley hosts youth soccer tourney in Dot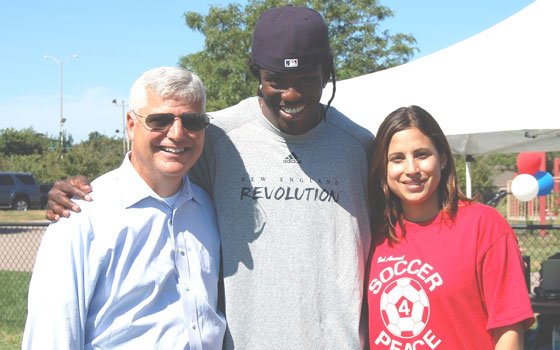 Suffolk County District Attorney Daniel F. Conley hosted the seventh annual Soccer for Peace tournament last Thursday at Pope John Paul II Park in Dorchester. Approximately 110 youths came out to participate in the world's most popular game with Suffolk prosecutors, victims' advocates and area residents.
"This is a chance for youths to hang out with members of the DA's office outside of the courtroom," said Tanya Brussa, director of community relations for the Suffolk County District Attorney's Office.
The idea for the tournament was first sparked during 2002, when there was a rash of violence in the Cape Verdean community in Boston.
"The [DA's office] reached out to leaders in the Cape Verdean community to find out ways to engage the community in positive activities," said Conley.
Because of the popularity of soccer, a tournament was created. Since launching in 2003, it has provided a vehicle for building harmony, community and leadership for youth, as well as providing a fun event to mark the end of summer.
"Our hope for these kids is that we only see them on a soccer pitch, not the courtroom," said Conley.
The event started with a skills clinic run by America SCORES, a nonprofit organization that uses soccer in conjunction with creative writing and literature to help kids increase their self-esteem and improve their ability to express themselves.
Next, six-time Major League Soccer All-Star Shalrie Joseph of the New England Revolution spoke to the gathered crowd and spent time signing autographs and taking pictures with the youth. Joseph, who was attending the event for the second consecutive year, stressed the importance of staying in school and working hard to achieve goals.
After some brief words from Conley, the participants broke into four color-coordinated teams and squared off to play the "beautiful game." To compliment the play on the field, various sponsors provided halftime refreshments and soccer-related raffle prizes. Citizens Bank also gave a backpack full of school supplies to each young attendee through its "Gear for Grades" program.
Joseph, who was only scheduled to make an appearance at the beginning of the tournament, stayed until the end, offering tips and encouraging the youth to play hard.
"[The tournament] gives kids a chance to play soccer, bond and make new friends," said Joseph.
On that score, Conley agreed.
"When the community gets together like this, it doesn't matter what team you're on — everybody wins," he said.