MIT gives Obama a glimpse of innovative clean energy work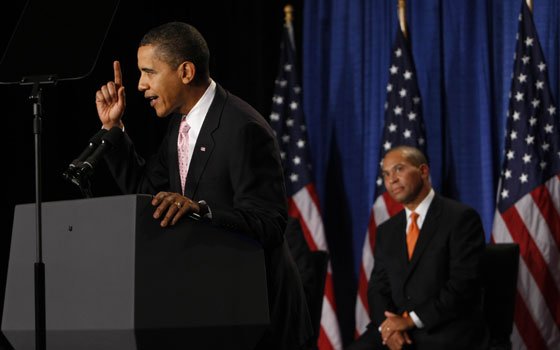 "All of you are heirs to a legacy of innovation … that has improved our health and our well-being and helped us achieve unparalleled prosperity."
— President Barack Obama
President Barack Obama urged students, professors and community leaders at MIT last Friday to lead the nation in the development of clean energy technology.
 Obama spent the afternoon at the university touring research facilities and addressing a packed Kresge Auditorium. Using the same language of hope and "yes we can" that defined his presidential campaign, Obama encouraged the audience to continue the American tradition of innovation and discovery in the realm of clean energy.
Included in the audience were Cambridge Mayor Denise Simmons; Congressional Representative Michael Capuano; Senator John Kerry, co-author of the Kerry-Boxer Clean Energy Jobs and American Power Act that was recently introduced to Congress; and Governor Deval Patrick, whom Obama lauded for being dedicated to making Massachusetts a "clean energy leader."
Although not present, Obama acknowledged Massachusetts Congressman Edward Markey, who co-authored the American Clean Energy and Security Act approved by the House of Representatives last summer.
Obama's talk came at a strategic moment in environmental activism. The U.S. Senate's Environment and Public Works committee is set to review the Kerry-Boxer clean energy bill in the upcoming weeks, and in early December the United Nations will begin a global warming conference in Copenhagen.
The majority of Obama's talk linked clean energy with economic prosperity. As the president told the story, developing new technologies for clean energy will create new jobs and industries domestically, and will also better position the United States to lead the global economy.
The Stimulus Package passed in February this year, explicitly targeted energy — $61.3 billion was allocated to the support of energy programs and the creation of new clean energy jobs and industries.
 "The world is now engaged in a peaceful competition to determine the technologies that will power the 21st century," Obama said. " . . . The nation that wins this competition will be the nation that leads the global economy."
Obama reminded the audience that the United States has always led the world in technological innovation, so the today's energy challenges should be no different. "We have to draw on the same spirit of innovation that's always been central to our success," Obama said. "And that's especially true when it comes to energy."
The President also condemned opponents of clean energy. "There are those who will suggest that moving toward clean energy will destroy our economy, when it's the system we currently have that endangers our prosperity and prevents us from creating millions of new jobs," he said.
Obama further warned the audience of the inevitable difficulty that will be faced in the upcoming months in pushing through clean energy legislation. But in his characteristically optimistic language, he reminded listeners that the greatest enemy to environmental activism is pessimism, "the idea that there's nothing or little we can do … We have always sought new frontiers and this generation is no different," Obama said.