Blacks, Latinos impacting Hub politics
Yawu Miller | 10/28/2009, 6:39 a.m.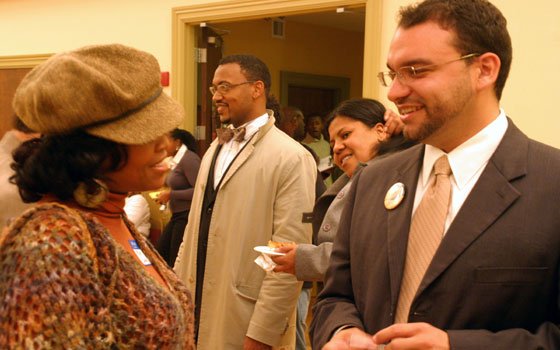 When Boston voters go to the polls next Tuesday, they will face the most diverse field of at-large candidates in recent history: two blacks, two Puerto Ricans and four whites.
The increased presence of black and Latino candidates has coincided with an increase in the number of forums in the black and Latino communities, ranging from a speed-dating format forum at Hibernian Hall Monday to a youth-led forum at English High earlier this month.
The at-large candidates are fighting harder for the black and Latino votes at the same time black and Latino voters appear to be voting more strategically. In the preliminary election, voters filled out an average of 46 percent of the ballot, indicating a high degree of bullet voting.
Now with the final election just days away, there's talk about the possibility of electing three candidates of color to at-large positions.
"It's a unique opportunity," said Caprice Taylor Mendez, a political activist who is executive director of Emerge, a state-wide organization that works to help Democratic women run for office.
Not since Jean McGuire and John O'Bryant were on the at-large school committee in the early '80s have there been so many candidates of color for city-wide positions.
"I think people are finding it exciting that there are so many people to choose from," said Sarah Ann Shaw, a former WBZ-TV reporter. "I can't remember an election where there were this many people of color to choose from."
There are now just two African Americans and one Asian on the 13-member City Council. Candidates Felix G. Arroyo and Ayanna Pressley placed 3rd and 4th in the preliminary, raising the possibility that there will again be four minorities on the council.
Commonly, many black and Latino voters use all four of their votes in the at-large race, boosting black and Latino candidates and their white competitors. But with four black and Latino candidates on the ballot, each with well-resourced campaigns, the likelihood of white candidates picking up "extra" votes from black and Latino voters could be diminished.
Because black, Latino and liberal white voters tend to turn out in much greater numbers in the final election than in the preliminary, the black and Latino candidates could receive an added boost.
The increased campaign activity in the black and Latino communities has led to more forums and more new voters, according to education activist Kim Janey.
"You see a lot more energy in this race," she said. "People are talking about the issues. They're engaged in this race. You're also seeing a different crowd at the forums. There are a lot of people under 30."
With the increased political activism in their bases, Tito Jackson or Tomas Gonzalez could conceivably move up into the top four along with Pressley and Arroyo, displacing Stephen Murphy, who finished second in the preliminary, activists say.
"If we had three, it would be helpful for the issues we care about, like affordable housing and improving our public schools," Mendez said. "Right now, we have a limited number of advocates in office who understand our issues. The others, you have to work to convince."
While many in the community may be considering an all-minority slate, others say they're going to vote for white candidates too.
"I think we should not be thinking of candidates of color only," said Marvin Venay, a political activist who is supporting incumbent At-large Councilor John Connolly. "You have to vote your heart. Vote for the candidates who measure up to your ideals."
 Regardless of the number of people of color on the council, it's clear that the white candidates are listening to black and Latino voters like never before. Mayoral candidate Michael Flaherty has tapped former rival Sam Yoon to run as his deputy mayor.
Flaherty has also championed social justice issues important to blacks, including the city's longstanding failure to enforce the Boston Jobs Ordinance, which requires large construction projects to hire blacks and Latinos in 25 percent of the jobs they generate.
"It's a good sign for the city when the leading Irish politicians are actively fighting for the black vote," said Avi Green, executive director of MassVOTE.