Curious Boston pre-teen sparkles on PBS' FETCH!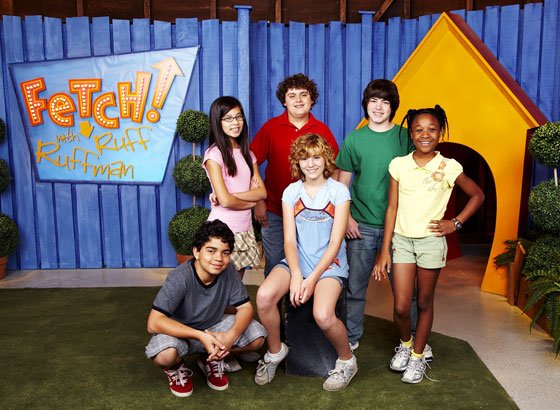 Bethany Owens sits in the corner of a tiny ice cream shop near her home, swinging her feet underneath the table. The back and forth motion causes her bright blue tulle skirt to rustle. On top, she wears a hot pink T-shirt and black vest, which she adjusts with fingerless gloves.
Yet, for someone who has yet to hit her teen years, this local resident has done quite a bit: learned to fence, helped conductor Keith Lockhart lead the Boston Pops, visited NASA, and tried her hand at improv comedy. All were part of her work as a "FETCHer" on the Emmy-nominated PBS Kids show "FETCH! with Ruff Ruffman." She spent the summer filming the show, which began airing its latest season last month.
FETCH! features six contestants who embark on challenges posed by the show's host, an animated dog named Ruff Ruffmann. Most activities incorporate science in some way. FETCHers are then awarded points based on their performances. A winner is declared at the end of each show with one claiming the title of Grand Champion at the season's end.
"You don't prepare. You're not prepared … You could go and they'll be like, 'we're flying you to China today,'" Owens said. Some weeks were a marathon. Owens would wake up early and be at the studio — or wherever the show took her, including Florida and Alabama — all day, for multiple days. The following week she could have nothing but free time.
"It was draining, but in a good way," she said. "You start thinking about a lot more … You learn about how an everyday act can have so much science in it." It was this curiosity that first got her on the show.
"They've got so much energy and they're not afraid to try new things," FETCH! producer Marcy Gunther said of the FETCHers. But Gunther remembers Owens in particular. She first met the FETCH! cast member when Owens was a 7-year-old working on a WGBH pre-school pilot. Though the show wasn't picked up, the producers remembered Owens' personality. "She was amazing when she was seven," Gunther said. "She was the same sparkly, energetic self [when she auditioned for FETCH!]."
The producers were not disappointed with their choice. "Bethany's really good about sharing with the cameras. She's very genuine with her emotions," Gunther said. Episode six, where Owens had to work with spiders, was an episode particularly full of the genuine emotions Gunther described. Bethany had an overwhelming fear of spiders.
"I can't say [I hated it] because I did have fun," Owens said. And for winning the challenge, Owens was lucky enough to take home a tarantula.
"We had to discuss that," her mother said. Owens' mother has her own touch of arachnophobia, which she takes credit for passing on to her daughter. But according to Mrs. Owens, spiders are the only creatures her daughter can't stand.
"She was always picking things up I would never touch," she said. "She was fearless." Even with a spider phobia, Owens has learned to enjoy her eight-legged friend. "She got to the point where she was touching its legs," Mrs. Owens said, shaking her head in amazement.