Arts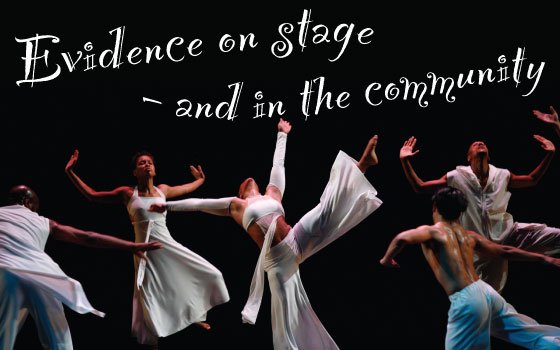 When he was 19 years old, Ronald K. Brown founded Evidence, A Dance Company. Now reaching its 25th year, his award-winning, critically acclaimed company  performs throughout the world. And wherever they travel, they also teach master classes and conduct lecture-demonstrations for individuals of all ages.
Raised in the Bedford Stuyvesant section of Brooklyn, New York, where his great uncle founded Trinity Zion Pentecostal Church of Christ, Brown creates dances of riveting poetic force that transmit values and shared histories.
Brown, 43, has created a unique body of choreography that reaches across time, drawing from ritual movements of West African, Caribbean and Brazilian cultures as well as  classical and modern dance traditions — and hip-hop. On his Web site, he states as his company's mission to "promote understanding of the human experience in the African Diaspora through dance and storytelling … leading deeper into issues of spirituality, community responsibility and liberation."
Last weekend, Brown, and his company were in Boston, where they performed three programs at the Institute of Contemporary Art, Boston as part of World Music/CRASHarts series of contemporary dance.
Brown began his stay on Friday morning by conducting a master class at the Boston Arts Academy. About 30 of the students were in attendance Friday evening, and stayed for a conversation with Brown and his company following the performance.
The Boston program presented a trilogy of dances choreographed by Brown.
Brown's inspiration for the first work, "Two-Year Old Gentlemen" (2008) was the love between his late grandfather and 2-year-old nephew. Drawing from male initiation rites and challenge dances of Caribbean and West African cultures, the dance celebrates male resilience, competition, courage, and camaraderie. Its music combines a live recording of Bishop Paul S. Morton singing "I'm Still Standing" and a drum solo by West African percussionist Mohammed Camara.
The dancers—Brown, Donovan Herring, Sule Adams and Arcell Cabuag, represented males of different ages and Meckha Cherry's costumes conveyed their varied ways of life. As the boy, Herring wore a shirt and tie and the others were garbed in assorted jackets and hats.
Herring seemed weightless as his feet pulsed in unison with the drums, as if lapping energy from the floor. Cabuag, his hair in a mohawk, has a small build but loomed large with his electrifying energy. Adams, a tall and muscular dancer with long limbs, moved his arms like windmills.
The lighting design by Dalila Kee accented the transition of the men from focusing on themselves to each other as, moving in circles and squares of light, they shed their jackets and shirts and formed pairs, lines and finally, with arms interlocked, joined in a circle. 
The second work, "Incidents" (1998), takes its title from the 1861 autobiography of Harriet Jacobs, "Incidents in the Life of a Slave Girl," which chronicles her journey from slavery to freedom. Brown's program notes describe the dance as an exploration of how "the remnants of the slave narrative live in the body and actions of women."
Tiffany Quinn, Clarice Young, Lilli Ann Tai, and Francine Ott performed the dance to the music of the Staple Singers, a live recording by Aretha Franklin at age 14 singing Thomas A. Dorsey's gospel classic "Precious Lord," and the infectious house-soul concoction "Mumbo Jumbo" by Wunmi Olaiya, who also designed the costumes.